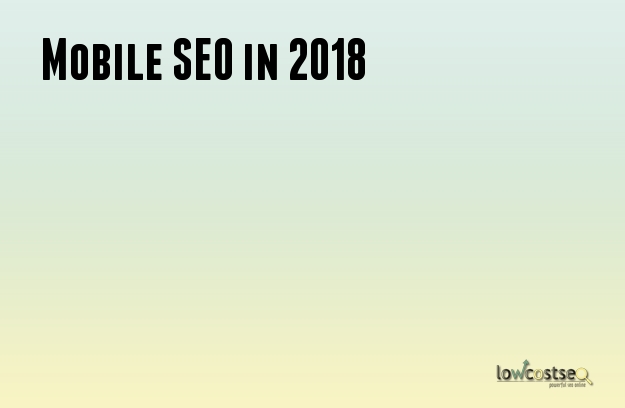 The end of 2017 and the development of trends through the years give the prediction of what is to come in 2018.
According to Statista, an online statistics portal, there were only 1.57 billion smartphone users in the world in 2014 and 2.32 billion in 2017. The number is expected to grow up to 2.53 billion by 2018 worldwide. That's 110 million users more this year. Fluent also conducted a survey on the usage of smartphone versus other devices and it shows that people spend 55 percent of their time on their smartphone, 14 percent on desktop PC, 12 percent on laptop, 8 percent on tablet, 4 percent on gaming consoles, and 7 percent on other gadgets like e-book reader and so on.
Looking at the statistics alone, anyone can tell how smartphones have been greatly affecting our lives.
Another surprising statistics is what device people make their online purchases most, and according to Fluent, 54 percent of people do it on their smartphones.
The rise of PWAs
PWAs, or Progressive Web Apps, are web applications that are regular web pages or websites but can appear to the user like traditional applications or native mobile applications. The application type attempts to combine features offered by most modern browsers with the benefits of mobile experience. The term first came from Google Chrome engineer and is now used to call a type of apps that let users use them like native apps on their native OS without having to download a bulk of data. According to Google developers, these apps are progressive because they work regardless of browsers, responsive because they can fit into any type of screens such as the smartphone, tablets, and more. Some of these apps are even connectivity independent which means these service workers can still work even when they are offline. They aren't really apps but their user interfaces work like apps do. They are very easy to use. These apps are also easy to update because of service workers and they are safe to use because they use HTTPS. They are highly discoverable because you can even search them through search engines. They also work with push notifications to allow re-engagement. Lastly, they are so accessible because you don't have to download them like an app with too much data on your memory because they are linkable and downloadable at the same time.
Some examples of Progressive Web Apps from Google are Google Commute, Google Traffic, Google Driving, Google Sports, Google Dining, Google Weather, and Google Translate. (They are mobile-friendly websites that can optionally be downloaded as apps that can occupy the whole screen of your phone or tablet minus the annoying web address tab and function buttons below.)
Your site and PWA
Recently, Safari has announced that there will be changes on how it will support web links including PWAs and it can also be treated as a significant development for Apple when it comes to online support versus Google. This means that once the protocol of Google Chrome and Safari on providing web results based on the availability of native apps and PWAs has been established, it could mean a great thing for your website if your website has PWA or is mobile friendly.
Tips To Improve Your Mobile SEO Performance
Mobile devices are here to stay. This incredible technology is gradually surpassing and sometimes replacing other forms of communication and computing. After the recent Google Mobile Update for its search algorithm, it has become a top most priority for the search marketers to make their sites mobile friendly so that they get a good search engine ranking when searched through mobiles.
One can have a separate mobile site which basically means a version of the website that can be accessed through a mobile device. However, it will be better if you have a single site that can be accessed from all devices, mobile or otherwise. Keep in mind that SEO dynamics for mobiles are a bit different than regular searches. There are some tips to ensure that your Seo campaigns work fine on mobile phones.
· Proper Sitemap for Your Website: If a proper sitemap is implemented, the search engines will better understand the pages that you want the bots to crawl. It will also help the search engines understand the priority of the different pages of content. This way you can control what the potential customers get to see first when they search the engines. You should prepare a XML sitemap and then submit it to the popular search engines like Google, Yahoo or Bing. This will help them serve the mobile search engine needs better. Once your sitemap has been created, check if it is in agreement with the mobile's sitemap protocol.
· Check with the Googlebot: It is very important that you check if the robots.txt file is accessible. It is very essential for the proper indexing of the site. It is important that you check that Google indexes everything including the images, JavaScript and CSS.
· Get Rid Of Any Duplicate Content And The Crawl Space Error: If you have different versions of sites it may often happen that the content may overlap. You should annotate the relation between the pages otherwise you will end up being penalized by Google. You can add alt tags to make sure that links are well established two. You can also add canonical tags pointing to the other versions of the same site.
· Use the Right Keywords and Meta Tags for Your Site: It is important that you get the right on-page optimization done for your mobile site. It is important to choose the right keywords and optimize the meta tags with it. The meta tags title must not be more than 55 characters and the description should be limited to 115 characters.
· Ensure The Site's Index and Usability: It is a good idea to create a Google Webmaster tools profile for your site and also create the mobile xml sitemap. This will help you improve the search appearance. Then you can link it up with the analytics profile. Make sure that the design in right with all the elements visible on the small screen and they are also clickable. Lastly, you must also check the page loading speed as it will define the quality of the user experience.