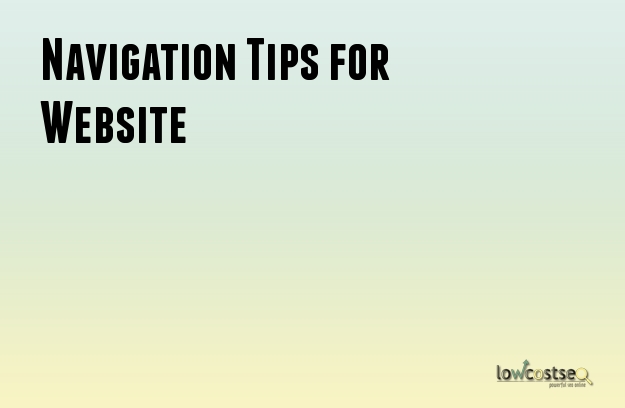 After our previous discussion on the optimization of Meta Keywords, today we will talk about how you can make your website's navigation process friendlier for the target audience and crawlers. You must comprehend the importance and value that navigation has on a website. We as webmasters want our website to be fully browsed, not just opened and closed straight away. We have to make sure our audience gets to the correct pages, stay on the site for a long time and the bounce rate is ever reducing.
So get it right that without the implementation of a good navigation system on your site, the traffic will not be as per your desire.
Navigation is part and parcel for SEO process. A clean smooth navigational process will surely reduce bounce rate and increase time spend by your visitors on the website. This will positively impact your Alexa rank, Page rank too. Now let's look at some techniques that you can follow for better navigation.

1. You should always use suitable and appropriate keywords when targeting a web page.
2. Always ensure the primary keywords are placed in the first section of the post.
3. Avoid the usage of JavaScript for navigation.
4. Make sure you use between 40-50 characters for text link.
5. Make sure to place between 2 to 3 anchor texts on each page.
6. Make sure to use the attribute in the text link.
7. Avoid image navigation link and only use text links for better navigation.
8. The text link has to be the common navigation menu for all pages.
9. Images have to be avoided in navigation. Use Alt tag and title tag in case you have to use it.
10. Place HTML Sitemap for visitors and XML sitemap for search engines on your website.
11. Avoid placing more than 20 links on each page.
12. The homepage button should be on each page for better navigation.
13. All the clickable links must open in a new window.
All in all, it is imperative for a business to have a good navigational structure if they want to succeed online. A website with a bad navigation process will loose its sense of organisation and structure. See the image above from websiteboston that depicts the navigation bars horizontally placed at the header and footer section of the website. Make sure each of your site's page can be accessed from at least one static page. You need to design the navigational structure by keeping in mind the audience as they will be the ones browsing your site. The easier it is the better it will be for the business. Make sure the inner pages are accessible via a single click and not more than three levels deep.