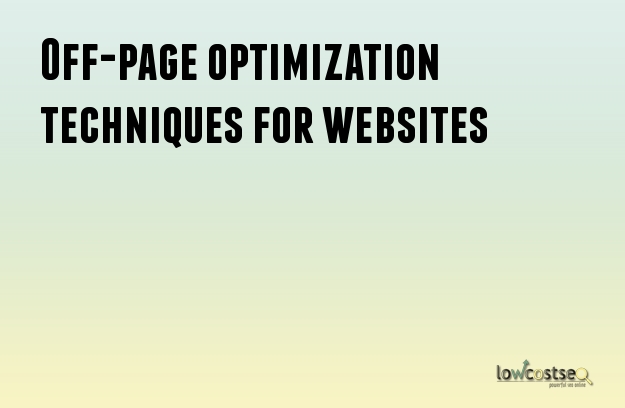 Off-Page Optimization
Off Page Optimization is another SEO process which is used to optimize a website. Off page optimization depends on different types of factors and visitors can easily determine your website's links on another website. Garnering website reputation is an important element for getting higher page rank therefore one has to carry out off page optimization in establishing an identity which in return will enhance the website's reputation. Now lets talk about some of the most effective techniques to get the best out of Off page optimization:
1) Search Engine Submission
This is an important element in the Off page optimization. Without Search engine submission any website cannot be found on search engines such as Google or Bing. Customers will not be able to locate your site too. It is vital that you submit your site to top search engines as that's where you'll garner most of your traffic. After the initial submission of your site, you will be required to wait for a few days for the site to begin indexing.
2) Article Submission
This is another off page optimization technique whereby visitors or clients will see and read your articles from another site and be interested to visit your website thereafter. Within the search engines there are lots of article submission sites. In those sites, just simply submit your seperate articles but never submit the same article in different sites.
3) Social Networking
We all know and understand the impact and importance of social networking activities in this day and age. Search engines do collect information about website's popularity on the social platforms such as Facebook, Twitter. It is very important to make a website and have it socially popular via likes, comments, tweets as this all enhances the search engine visibility of the website overall.
4) Forum Posting
This is another strong element in Off-page optimization. Forum posting can result in a big jump in website traffic. All webmasters can submit their links to different sorts of forums depending on the industry they are targeting. The website related forums are better for URL submission. As a guidance tip, one should always use related anchor text to submit your website URL.
5) Directory Submission
Lowcostseo submits your website to directories to get you better visibility and traffic. We always make sure that we choose a high ranked directory for our clients as we understand the affect it may have on your website's rank and reputation. Examples of some directories are Dmoz, Yahoo directory are very popular to all.
6) Link Exchange
Another technique to get visitors to a website is called Link exchanging. This is sort of a mutual commitment between two website admins for publishing a link on his website. We at lowcostseo will always choose a higher ranked website for getting better results for our clients.
7) Blog Submission
We strongly advise that every website should have some sort of a blog as it is an important and vital element to drive traffic to your website. A blog is whereby the website administrators can submit some sort of information that is linked to your website and also have discussions with fellow bloggers. We suggest website owners to create a blog and to update all the latest information regarding your business on there to keep the user fully informed.
8) Blog commenting
After creating the blog on the website, you will notice other bloggers trying to comment on it as that is a great way of backlink building. You must choose high ranked websites for commenting on their blogs. Everyday we suggest to atleast try commenting on a few blogs so that it does not look like your spamming. The Search engines give more importance to .gov and.edu sites than other websites.
9) RSS Feed Submission
RSS feed submission is another off page optimization element whereby visitors can get latest information about your site through email without visiting your website. Lots of website admins use Google Feed Burner tool, which is very popular and easy to use.
10) Photo Sharing
This is yet another SEO technique to get more traffic an increase visibility. As a website admin, you can submit images to photo sharing websites where visitors will be interested to view your site thereafter. Please make sure the images are attractive and interesting to the viewers thus generating lots of traffic to your website.
11) Video Promotion
Youtube is great way of marketing one's website video to a global audience these days. We suggest to create a promo video on your website and submit your video clips to all the top video sharing websites to get your video and site maximum traffic and greater visibility. You can search many of the video sharing sites by the use of search engines.
12) Advertisements
Adverts are a great medium for getting lots of visitors but in this day and age one must spend money to first create an advert then publish it on another site. We are able to buy ad-space where you can display your website's ads. You have sites such as Gumtree, Loot, etc which specialize in marketing your services on offer. Another way is by using the banner placement technique where you pay a website to have your banner placed on their pages.

All in all, Off Page SEO Techniques is a continuously evolving process and more techniques will be added as we get smarter in the world of marketing. Also do understand that there is no shortcut to success in SEO. Be patient and remember always follow the White hat SEO method.
Here is an infographic by seranking outlining 6 of the most important ways to get high quality backlinks.