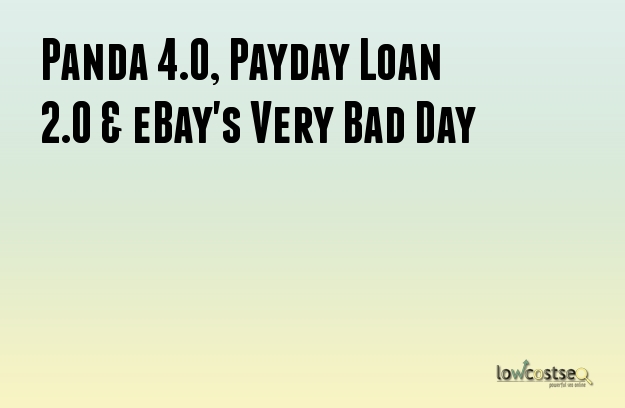 Google is definitely leaving no stone unturned to make its search results more effective and more relevant than ever before. For that reason, we have seen Google shaking the world of search Industry with two back to back updates – Panda 4.0 and Payday Loan 2.0. The idea was to stem the tide of spam that was threatening to pollute its search results.
However, these two updates are totally different. Panda was launched to punish those websites that still publish low quality content or deal with unoriginal content, whereas Payload Update is a specific kid of update whose objective is to deal with some specific spammy search queries.
We are all aware of the fact that there are some industries that are targeted by spammers more often by not. Payload loan belongs to this type of industry and for that reason; it was in need of some kind of special treatment from Google. Google launched Payday Loan 2.0 update to curb the menace of spam on this industry. The impact of Payday Loan 2.0, an updated and more refined version of its predecessor Payday Loan 1.0 [launched on June 11, 2013], is not pervasive like Panda update and its impact can't be felt across all the verticals of Payday Loan industry. Rather Google has specifically targeted some queries and have pushed out this update to flush out spammy and low quality websites from its SERP.
Though it is not clear when Payday Loan 2.0 was actually rolled out but some marketers believe that Google might have launched it on May 16th given the fact that they have noticed massive fluctuations in rankings on that day.
Now, as expected, some websites have got benefitted from these two updates whereas some websites have suffered greatly from them. However, what caught everyone's attention is the fall of eBay from the good grace of Google. If the statistics are anything to go by, eBay has lost as much as 80% of its organic traffic and for an ecommerce company this is a complete disaster. So, what caused this massive lose of visibility?
Of course, it is quite certain that the eBay is hunted down and mauled by vicious Panda. But the bigger question is what caused its massive loss of visibility. Well some marketers are in the belief that eBay was in fact asking for it. By and large, eBay was not paying much attention to the quality of content being uploaded to its website. And lately, it has started investing on some shoddy SEO practices that seemed to have ruined its prospect. Its internal linking structure and the aggressive use of keywords in its website has also acted against it eventually.
So what we have learnt from this dramatic debacle of eBay? Well, it has become crystal clear to us that no matter how big your brand is, if you are not paying attention to basic SEO rules, your website is going to take a blow from search engines sooner or later. So, keep your focus on creating awesome content and your ranking will eventually increase. Panda 4.0 and Payday Loan 2.0 are definitely not the last updates from the house of Google and therefore, we need to work hard to make our website as search engine friendly as possible.