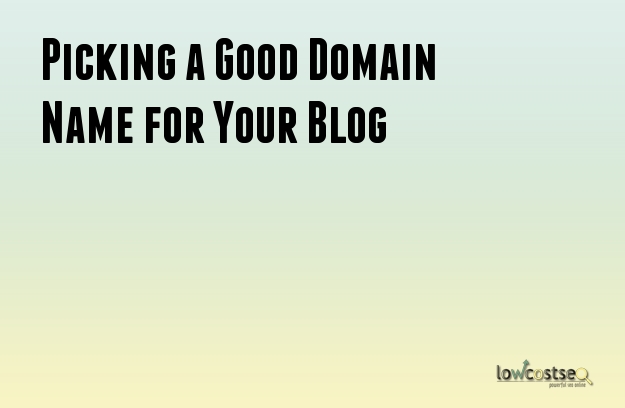 Blogging is a popular activity that many people are taking up. If done in the right way, it can earn you a lot of visibility and followers and you can also earn money from it. Some bloggers may not see the results immediately, they may lose patience. Persistence is the key here and if the blogger can keep his patience, he can earn a lot of benefits from the profession.

For creation of a successful blog, many points must be brought into consideration. The content and design of the blog is important, but it can be modified and changed later on. The thing that cannot be changed is the identity of the blog or the domain name. You need to be very careful while choosing a domain name as it will remain as an identity to your blog forever. It will play an important role in defining your brand and making an impression in the mind of the readers.

While choosing a domain name, you can go for brands or for generic keyword focused names. This is crucial decision since it will determine your future audience. If you create the wrong name, it might create a roadblock to your future successes.

So, if you are new to the business and want to start a new blog, here are certain tips to get your blog a right name.
Always choose a .com: There are many different extensions launched in the market, but the .com will always be a top choice. The value of this extension is more than any other. All the big brands choose .com for their web site. The sites with these extensions have more credibility among the audience. People usually opt for the . net or . org extensions if they do not find the other version, but this may harm their page traffic in the long run.

The phone test: Passing the phone test is the biggest requirement of the choosing the right domain name. If it does not pass it, then you should not go for developing a brand around it.

Premium domain names: You can opt for this if you do not have any other alternatives. There are premium .com domain names available that can give you good results. Some places where you can find the premium .com versions are Sedo.com, Afternic.com, HugeDomains.com, BuyDomains.com. These premium names are usually resold and they are available in the market in prices varying anything between $500 to $1000. It may sound a bit expensive, but given the future prospects it is a small price to be paid.

Register the names: If you are able to secure a domain name, the first thing that you need to do is get is registered. You can get it registered at sites like Godaddy.com or shoutmydomain.com. The registrations are quite affordable and range between a measly $2 to $12. If you want to transfer your domain to someone else, you can do it after two months from the day of registration.