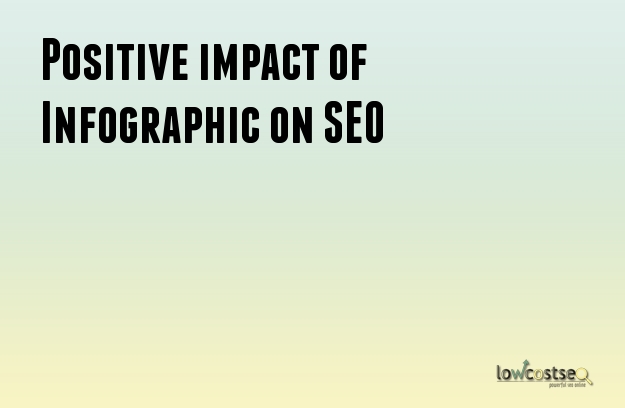 SEO is of course the only way to increase the rankings of your website on Google searches. That is why people are constantly searching for legitimate ways to help boost their website SEO. You should consider the use of info graphics to help improve the optimization procedures of your website.
Info graphics are a very useful way to give the much needed boost to your website SEO. You can garner a huge number of backlinks. Moreover, you will find that huge numbers of completely targeted traffic is being driven to your website. Creating an info graphic on the other hand is a difficult process.
The Goals of Infographics
Info graphics are the best way to earn a lot of backlinks for your website.
Traffic can be directed to your website in large numbers.
People love info graphics and will be more open to sharing them on social networks.
Infographics Are Effective
Infographics are effective because of a very scientific reason. The human brain is capable of processing visual information much faster than words. People can grasp and understand the information presented to them in a visual medium such as infographics quickly. They will require more time to understand concepts if they are presented in words.
Additionally, people like receiving interesting and informative images. People are more enthusiastic when it comes to sharing info graphics.
Making a Powerful Info Graphic
Your info graphics should present a story to the readers. The organization of the information should be linear. You should not collect and display pure statistics in a visual format.
Info graphics can be used to provide complicated information in a simple manner. You can use the design elements of the info graphic to break down the complex information into simple data that can be easily understood by a layman. Charts, diagrams and graphs can be used to simplify the information.
Ensure that your info graphics can be shared easily. You can add various social media buttons to help your visitors share them. Make the backlink process easier as well.
Creating an Infographic
· Before creating info graphics, you should conduct a thorough research on the subject matter. Collect information that is interesting and educational. People should be entertained while reading the info graphic.
· Layout is important. The readers should find a linear progression of the information with a satisfactory conclusion. You can also include a call to action at the end but it should be a seamless transition from the rest of the data.
· Hiring a professional designer can be immensely helpful in creating a perfect design for the info graphic.
· You info graphics should be attractive. To achieve that effect you can use different fonts, photos, images, graphs and colors.
Once you are satisfied with your info graphic post it on your blogs or website. You should share them through your various social media channels so that others can see them. For the best results, you can contact a company or agency that distributes info graphics for reaching a wider audience. It may even go viral.
Infographics are powerful pieces of content. They are a combination of text and images. You will get the benefits of textual and visual content at the same time with infographics. By getting them shared on more platforms such as blogs and social media networks, you can improve the SEO of your website and webpages.
In fact, it is possible to generate huge numbers of backlinks and social shares with these images. However, you need to ensure that your infographics reach your readers and customers. By making your infographics successful, you can make your website or your blog a success as well.
The Webpage
The webpage where you are placing your infographic should not be left bare. You can add a blog post or a few lines with the infographic. The post should give a reason for posting the infographic.
At the same time, you need to process the infographic for SEO. This means you have to include title and keywords into the post and the description of the image. The image file should have the correct metadata, embed code and alt tags.
Use Influencers
There are many websites that provide information to the same market that you operate in. These influencers cater to a wide range of consumers and readers. You should identify an influencer which can help you reach your target market and industry leaders. Build a good rapport with them and ask them if they would share your infographics.
Keep Sharing
You need to promote your infographic extensively if you want to increase their reach. Since infographics tend to be interesting and usable, you can easily post them in various social networks. Include keywords when making the post. At the same time, link the infographics to the relevant landing page in your website. Add social URLs and appropriate hashtags wherever possible. You can make use of the groups in Google Plus and LinkedIn that you are a part of.
Infographic Websites
There are many websites which are perfect for sharing infographics. By using these websites, you can increase the reach of the infographics that you have created. Pinterest and Flickr are popular for such activities.
Use Blogs
You should try and locate blogs that are dedicated to your niche. Some of these blogs may have already shared infographics about the niche before. You should contact them and ask if they would be willing to share your infographics. However, it may help if you create a good rapport with them before asking them to do so.
Measure Effectiveness
It is easy to track how many shares and backlinks you have garnered with your infographics with the help of analytical tools. Google Analytics can be a good start. You can also use Google Image Search to find out if anybody has shared the infographic without linking it back to you or crediting you. Ask them to put a link.
Be Grateful
You should take the time out to thank all the people that have helped in sharing the infographics. If you show your gratitude, they are more likely to share again in the future.
An online marketing strategy can be extremely helpful when you are trying to make your business a success. Just like any other business strategy, you will require a tool that is flexible, versatile and easy to use. For online marketing strategies, infographics is that tool. Infographics can have tremendous benefits.
If you find that your website is generating very little traffic then may be it is time to consider infographics. Infographics can also be useful if the traffic being generated is not relevant to your business or if they are not getting converted.
Capture the Attention of the Audience with Infographics
The fact is that humans rely a lot on visuals. This is why people tend to get easily attracted to elements that have appealing visuals. Additionally, people tend to process information faster through their eyes if the information is presented in a visually attractive manner.
Although graphics are good, they require text in order to provide a more complete meaning. You can combine attractive graphics with well written information to create infographics. It will make your content stand out from the rest and your visitors are more likely to be impressed.
Improve Your Brand Awareness
Infographics by their very nature are meant to provide information. You can simply attach your relevant details such as contact details and website addresses to them. The logo of your company should of course be present. These details become a mark that you have created the infographic.
In this way, the infographics become an effective method to increase the brand awareness of your company. It is possible to increase the traffic by quite a significant margin through this method. Infographics are not simply tools you can use to tell your visitors about your brand. Instead, they showcase your brand in a visual manner.
Become a Viral Phenomenon
Statistics show that marketing materials that contain visual elements are more likely to be noticed and shared by people compared to materials that are only composed of text. The fact is that infographics tend to be visually compelling and attractive. People like them so much that they are willing to share them with their groups and circles. As more and more people share the content, you will find that it has become viral. Such possibilities are one of the charms of infographics.
Infographics Can Be Invaluable to SEO
Infographics will certainly contain contact information that pertains to you. Additionally, whenever, the infographics get shared on social media networks or other channels, you are actually getting invaluable backlinks. This is extremely beneficial if your infographics are picked up by authority websites and shared by them.
In order words, you will find that you are gaining a tremendous amount of backlinks. This in turn can improve the rankings of your website making it easier to get to the first spot in the first page. Moreover, when other people see the infographics, they are more likely to follow your social network profiles.
The wide range of benefits that you can gain from infographics makes them incredible marketing tools for your business. We found this very simple yet informative infographic done by the infographicdesingteam,