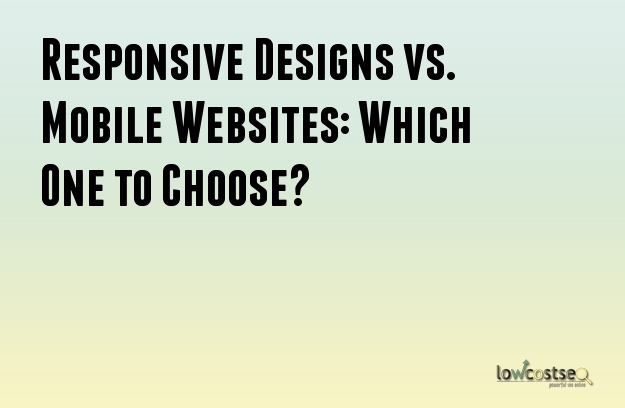 Website designing includes different skills in the maintenance and the production of the sites. There are several areas of website designing which mainly includes interface design, graphic design with user experience design and search engine optimization. You have to work in different aspects of the web design process. Being a website designer, it's expected to have awareness of usability and if their significant role involves creative work. They should be have ingrained knowledge of smooth web accessibility.
Today, website designing is not just a question of mobile website. There are some of the widest ranges of website designing available in the market. Is your website mobile ready? Are you struggling to decide between a new responsive or a mobile website?
Most of the clients never realize the difference between a mobile website and a responsive design. Being a business owner, you have to stay updated with the latest advancements in technology. But which one you should go for? Make sure you consider the following before moving ahead.
When your design is responsive, a site has the ability to adapt automatically to any device you are viewing this site on. On the other hand, in the mobile websites, businesses have two different sites; one is designed mainly for desktop viewing and the other is viewable on the mobile device.
Making your device responsive design ensures same page code to all the users. Mainly the JavaScript reformat and cascading style sheets (CSS) web pages in the user's browser. While in the mobile websites, you will get an appropriate version of the website, whether desktop or mobile. This will help to detect the device type of the user on the server side.
Responsive designs are the most essential and vital factor for a web design. There are some of the great benefits of responsive designs which enhance Search Engine Optimization. Today, responsive designs are very popular for online businesses.
Responsive designs make a site streamlined which looks elegant. Thus, it saves great time and money. Both the desktop and mobile sites can have different designs. On the contrary, mobile websites can be easily fixed quickly, when required. The size of the file gets smaller which helps in fast viewing. Apart from all these, the templates of the mobile can be less expensive. You can also use different programs for the websites. Moreover, you can craft various UX in order to match your mobile needs. Besides, some of these above advantages that a user enjoys, there are a few disadvantages which should be taken into consideration.
Creating responsive designs can work for your current desktop website. But it may not be an economical decision. But in mobile sites, it's unnecessary to overhaul the current website. If the users have specific requirements on the mobile device, they can view the mobile site at the top of the comprehensive desktop website. Majority of the users doesn't even care whether your website is mobile or responsive. They just need which works best and brings success to their business.