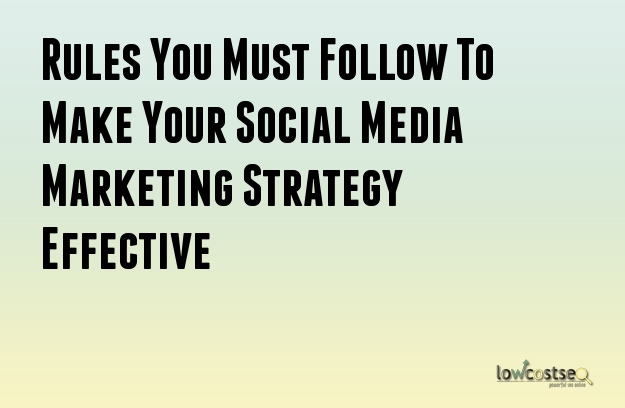 If you want to run a successful marketing strategy with the help of social media networks, you need to follow the rules. Unfortunately, these rules are unwritten which makes it difficult to follow them. Of course, it is difficult to be familiar with these rules if you have just started out. You do not want to end up losing your followers even before you can make an impression.
That is why here is a list of the most common rules of social media that you should follow in order to get a good feedback for your marketing strategy.
There Is No Shortcut
You will need to invest a significant amount of time, energy and even resources in order to be successful at social media. You can never find a shortcut to success and that applies to social media marketing strategy.
Make Contributions
The key to success in social media marketing strategies lies in your ability to contribute something valuable to your community. If you are unable to do so, nobody will be willing to pay attention to you or your business. You can contribute information about your business or valuable pieces of advice through posts and blogs.
Avoid Spams
Spam is universally hated. People do not like to see spam posts clogging up their news feed. You should promote your brand. However, that does not mean that you should do it constantly. That will be considered to be spam and you will be ignored and in some cases blocked.
Be Authentic
It is quite easy to rewrite something and post that somebody else has already posted. However, that means your followers can easily go to the original source for the information instead of listening to you. You must take the initiative and put in the effort to be authentic. Use your own knowledge and sense of humor to create something unique.
Engage in Conversation
Social media networks thrive on conversations. An essential part of your marketing strategy would be to use conversations to boost your popularity. This means, you need to take the initiative to interact with your followers and fans. Avoid hogging the conversation however. Allow them enough time to put forward their comments.
Become an Expert
Would you take advice from someone that is not an expert on the topic? In the same way, people will not listen to you unless you establish yourself as an expert. This can be done through posts that give advice or useful information. Blogs and guides can be useful as well.
Be Productive
You can easily stay online for the major part of the day. However, that does not necessarily mean that you are productive. You should instead utilize whatever time you have and make the most of it. You can distribute your time by engaging in conversations, participating in group discussions and posting only the most essential pieces of information.
At first, it does seem that the vast world of social media networks and all its rules and regulations will overwhelm you. However, with a little patience and a lot of hard work, you will be able to find success.