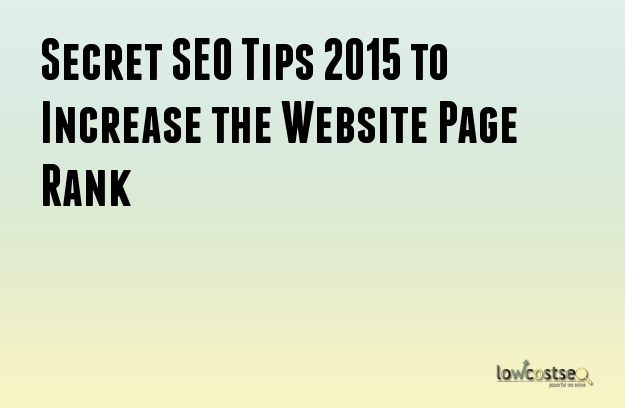 To those who fail to understand the science of internet or search engine guidelines, SEO for them seems to be a secret or just a matter of luck. Some would become overly meticulous about the concept of SEO and spend a lot of time on reading blogs, finding answers on forums etc. But as internet is vast, the information on SEO will never end to a point from where one can sit down and start the actual work on building their website. After reading the information here, you will be equipped with all the information necessary to become a SEO analyst on your own and increase the page rank of your website.
Below are the 3 fundamental elements that decide the web page ranking
Provide fresh and accurate information to the readers in an interesting or captivating way.
Distributing and displaying the relevant content based on the places where both human users and search engines traverse on.
Reflecting the fact that Google likes to make the web a better place by providing highly useful, accurate, and stimulating content on a subject matter.
The first point covers the crucial aspects of content and keywords. The second point highlights the importance of SEO, visitor traffic and global SEO aspects to receive good recognition from search engines and feedback from the people on web. The third point listed establishes the relationship between back links and Google preferences.
The page ranking is one of the important concept of SEO on which most of the SEO strategies and principles work on. When a business correctly understands both the advanced and basic knowledge on SEO increasing the page rank of a website shouldn't be a problem. This includes the use of communication interconnectivity through content, graphical elements, video, and images to grab the reader's minds. The triumph in higher page ranking lies in seeking and implementing solutions that work on SEO diversity. In addition, only continuously writing articles of marvelous quality may not garner highest of online presence in 2015. The communication campaigns should include other elements along with creating high quality written content. Below are the necessary things you need to include to increase your website presence.
YouTube Channel- The videos here should display the main point to focused in the written piece or keywords phrased in the content on the website.
Text wording- This is a form of prolific quotation or artistic wording that appear on a background image. For instance, this can be a creative hook penned down by a site owner relating to the public domain.
Pages that already have appropriate images should also make use of additional features on the internet such as profile creation on Pinterest and posting images with appropriate links and SEO tags. The written content can be distributed in other forms such as slide sharing, direct audio, or in a video presentation with captivating animations created by using software tools.
After learning the additional ways to increase your page rank, you should be known that SEO page ranking also depends on the collective creative communication effort put on your website. Using multitude of ways to manifest the information and present it to the user is a great way to impress the search engines. Again by keeping your content positive, strong, and controversial wherever necessary will stimulate sharing, reviews, back links, feedback, and citations.
Based on the survey conducted, Google's SEO ranking scheme of 2015 keeps a keen eye on both new comers and established site owners and judge them based on the use of multiple channels to present their content rather than using a single medium. So take your time to stimulate unique ways to present your content and increase your page content.