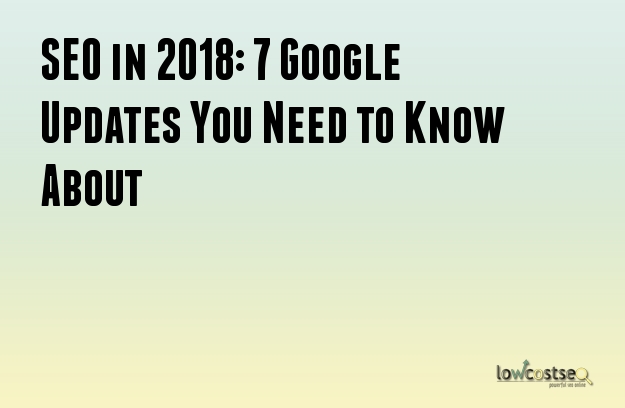 There are a lot of things you need to know about Search Engine Optimization and its impact on any marketing strategy. It is a must that you follow the best practices in SEO as it has great impact on the organic traffic that comes to your website and the potential it can lead to getting more customers and leads from these visitors. Even the Google search results' first listing received a 34.36 percent clickthrough rate.
Google and many other search engines really know how to keep everything busy. They are always tuning up the algorithms and updating it in order to improve the search information that users dig up from the internet. However, these are also challenges that webmasters and marketers have to face, since Google just recently announced that many of its updates have already been rolled in a core algorithm. These updates are often adjusted, but they don't make these announcements unlike what they do before.
So how can you tell that if an update was just done when even Google doesn't confirm it? There are dedicated websites that keep track of the possible updates that Google SEO does, such as Moz and Search Engine Land. Bookmark these websites or sign up their newsletter so that you always stay updated.
Below are the recent 7 updates from Google SEO that you must know about.
Content Quality Update
This update is targeted on content quality, which may be related to the Panda algorithm. A lot of sites have seen significant changes with their ranking. This is part of the core ranking algorithm of Google.
March 2017 "Fred"
This update is unconfirmed but first sighted in March. Its name come from Google's Gary Illyes wherein he suggested the updates to be named as Fred as some sort of joke. However, the name got stuck that way. This seems to target the link quality within the algorithm of Google, based on Search Engine Land's information.
Mobile-First Index
These days, mobile search is rapidly dominating, with over 50 percent of Google searches done on mobile. Now, Google is shifting their attention with their mobile-first index. They say that it is going to be launched late in 2017. When it goes live, the ranking will solely be based on this indexing algorithm, rather than with the desktop they used to have.
Penguin
The Penguin 4.0 algorithm, which was first launched back in September 2016, is running in "real time". While its versions before could keep one site from recovering in between updates, this one can only affect single pages and not the whole site.
Search Result Emojis
This was once supported before, but halted in 2015. However, they are making a comeback on all devices.
Stars in the Local Search Results
Businesses who also have received a single review will have the stars show up in their local search results. Before, business need to acquire multiple reviews before the stars show up.
Other Mobile Updates
Other algorithms that are focused on mobile are also introduced. At the turn of 2017, Google announced sites that are not responsive for mobile use will be receiving penalties for the interstitials like the pop ups or the ads that has blocked users from reaching into the actual content of the site.