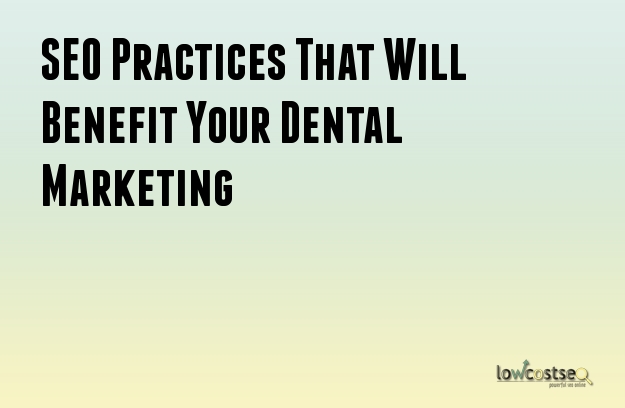 SEO Practices That Will Benefit Your Dental Marketing
As more dental patients turn to the Internet to look for the best dental practice nearby, dental professionals finally recognize the immense role of a strong digital dental marketing plan.
For a long-term and cost-effective way to attract new patients to your dental office, work on improving your dental SEO strategy to enhance your online presence. Merely having a website won't cut it these days -- you have to appear in various searches and local listings too. Make sure that when patients need you, they can easily find you online.
Here are some of the best dental SEO practices to help you kick things up a notch.
1. Dental offices benefit most from Local SEO.
Like most brick-and-mortar businesses, you'd also want your dental practice to rank well in local searches before anything else. An excellent dental SEO strategy focuses on positioning the business high up in local search results first, but without neglecting traditional SEO.
Creating online listings is a rather simple but effective way to put your dental practice on a favorable spot in Google's local search results. You can start with a Google My Business listing and then make as many online listings for your business as you want. The more you put out your business' accurate contact information online, the stronger your website's location signals will be.
Also, encourage your patients to "star" and post positive reviews on your listings, as this significantly impacts your local and traditional SEO.
2. Good, mobile-friendly website structure ensures quality user-experience.
Google loves recommending websites that provide an excellent user experience. Even if you have great content, poor user experience will make your visitors lose interest even before they learn what you have to offer.
To make sure that your website satisfies both Google and your visitors, build a good website structure for both desktop and mobile. This means that you have to work on making your site faster, easier to navigate, and mobile-friendly.
Design and organize your website well, so it's easy for visitors to understand what the pages are all about. Make sure that all of your site's pages can be accessed in three clicks. Ease of access will not only keep the bounce rate low, but will also inspire visitors to take action.
Moreover, take steps in improving the speed of your website. Most users leave when pages take more than three seconds to load. Nobody would want to linger on a lagging website – not even you.
3. Exceptional keywords pay off.
Keyword-analysis is vital to the success of your dental SEO strategy. Think of it as the foundation of all subsequent SEO work. And as a dentist, you know that a strong foundation is essential.
If you must, take the time to find unique and hyper-targeted keywords that are more buyer and research-oriented.
Hyper-targeted keywords leave very little ambiguity in terms of what the user is looking for and where. Because hyper-targeted keywords contain the exact type of service and location, using these keywords result in more site traffic and a higher conversion rate.
4. Content is still the key.
Nothing beats quality content. So, avoid adding content just for the sake of having something to post. The quality of your website's content has a massive impact on how you rank in Google's SERP, with a specific search or keyword.
You see, Google ranks pages and not websites as a whole. Google measures the relevance and quality of your content by your visitors' "time on page," because – logically speaking, visitors will only take their time on a site that's offering something of value to them. Thus, the better your "time on page" is compared to your competitors, the higher your ranking will be.
SEO for dentists is challenging but necessary. If you haven't been paying enough attention to your SEO strategy, you better start now! A reliable and experienced SEO agency can help you plan and implement robust SEO processes that will lead your practice to new and greater heights.
About The Author
Shawn Byrne, founder and CEO, started My Digital Dentistry after years of developing and executing successful marketing strategies for Venture Capitalists and business owners in and out of the medical field. He saw a growing need for quality digital marketing specifically in dentistry, and had the foresight to create an agency specializing in understanding and solving the unique problems of dentists and their practices from General Dentists to Endodontists.