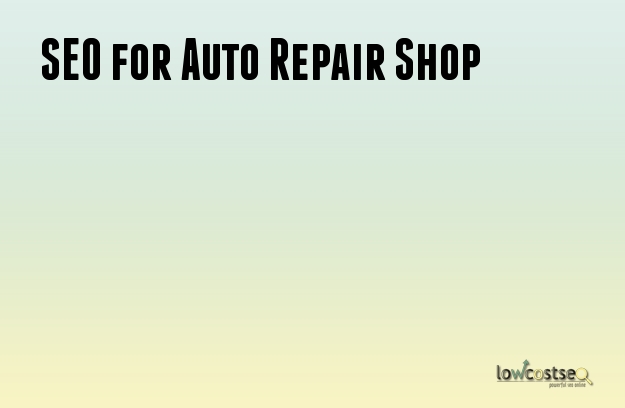 Mechanics are a very popular business – due to their nature, they're able to thrive within local communities and areas, as proximity is often a strong requirement.
Of course, like many local businesses, this also means that SEO can be a challenge. You need to stand out online yet, at the same time, you need to ensure you are visible to the right people. So, how can an SEO company help a mechanic or automotive garage gain more visibility online?
Keeping It Local
Whether you have 1 branch or 100, each individual garage needs to be found online. As such, local search ranking should be a priority. This means you should clearly list the address and contact details for each branch – making sure that it's clear which details belong to which branch. This way, Google can quickly pick out these details and list them in the search engine results.
While this is vital for any local business it is, however, arguably even more important for this industry. If someone needs a mechanic in a hurry, it's often because the car has broken down on the road, or they need somewhere incredibly close to their home. In either case, proximity to their current location becomes a big priority and Google often considers this, especially considering the rise of mobile searching, google map results and GPS coordinates.
Technical Knowledge & Services
Outside of local keywords, it's also worth looking into your specialist services. Not every garage, for instance, offers tyre fitting or official tests (such as MOTs in the UK, for instance). Yet, a quick keyword assessment will show that these are something people do search for. Don't forget to combine these with local searches as well – people want services close to them and these long-tail keywords could represent a great deal of your overall search opportunities.
Alongside this, you should consider offering some guides, whether its specific pages or a blog, displaying some of your technical knowledge. This can be a great way to attract users who aren't quite ready to convert into customers, but it nonetheless increases your exposure. From a marketing point of view, it also affirms your position as an expert and showcases what you're able to offer.
Local Network and Listings
People often like to use the same mechanic, so your interaction and involvement with the wider community can help. Participating in local events can help spread your brand through local news sites and community pages.
Of course, you should also look at local and, if applicable, national listings, as long as they are reputable sites that people actively use. In a similar vein, you should allow people to leave reviews, whether its on third party websites, your own site or even social media. The latter, likewise, is also a good tool. Social media is a great way to connect with the local area, especially if you focus on the overlapping interests between your business and your audience. For instance, advising on local road conditions, such as major constructions or blockages, will be useful to your customers, who are nearly all certainly active drivers.