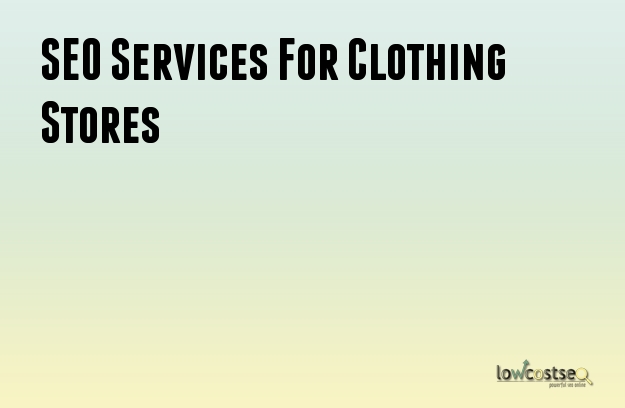 Fashion is always a big business and, with an ever changing line-up, you need to stay visible online. As such, any SEO agency working for a clothing retailer needs to remember the unique nature of the industry.
Online Or Offline Sales?
Clothing retailers can, first and foremost, be split into two rough groups: online and offline sellers. The former sells their clothes online, letting customers make transactions, while the latter has a brick and mortars store. If you fall into the second category, it's vital that you ensure your location (or locations, if you have multiple stores) are well listed, both in Google and various public listings. This way, people on the go in your area can find where you are, converting your SEO visibility into genuine foot traffic.
Of course, it's entirely possible to be both an online and an offline seller as well. If you want your physical stores to be noticed, you still need to apply these local SEO strategies. If you're selling anything online – or even just displaying your full range – you likely have an extensive catalogue, which leads to the biggest issue clothing stores often face.
Categories and Indexation Issues
Any good website needs clear navigation. This helps customers find where they want to go, but it also helps Google to crawl the website. However, depending on how your website optimisation – specifically, how users are able to filter and navigate your catalogue – you could have big issues with redundant URL generation.
Let's assume someone is looking for a blue wool cardigan. If your website allows them to filter, with each filter generating a new URL, this could be a problem. For instance, if they search by the clothing item first, and then by fabric and colour, the URL could be:
http://www.yourwebsite.com/clothes/cardigans.aspx?fabric=wool&colour=blue
(This is assuming that you have cardigans set up as a main landing page, with subsequent filters available). However, if the user sorts by colour first, you could have a different URL:
http://www.yourwebsite.com/clothes/cardigans.aspx?colour=blue&wool=fabric
With even more possible categories, the potential for each page to generate a new URL is a problem. Even the final product page can be duplicated if it follows the navigation tree. For instance, both clothes>cardigans>wool>blue and clothes>cardigans>blue>wool will list similar items and, if your website isn't set-up correctly, this could lead to different URL addresses for the same product.
Why is this a problem? For the purposes of linking, you have multiple addresses for the same product, so you would need to ensure that only one is used for linking – however, even this doesn't account for natural organic links that may appear. Furthermore, additional pages such as this cause problems for Google. The extra pages will readily eat up the crawling budget and it may even cause issues with duplicate content (although, on your own site, this isn't always an issue).
Keywords And Page Targeting
Clothing is a prime example of a seasonal product. As such, directly targeting specific products isn't always a good idea for the sake of back-link building. While it's great for highlighting a specific item, the link equity is essentially wasted once the product is no longer in-stock.
Instead, you should be focusing on product pages and other landing pages. These link to products and are niche enough that users can find what they want. As mentioned before, you still need to be careful with the URL you provide, which is why a properly structured website is vital.
Finally, you can also have special pages set up for sales or offers. These are temporary pages but you can consider using a 302 redirect. If you're having a sale on jeans, a temporary re-direct might from your jeans landing page might be one way to draw attention. This way, anyone searching for jeans will uncover the link equity already built up through those keywords. Of course, you might simply prefer to add a banner to the existing landing page. It all depends on your audience and the nature of your promotion. Perhaps it's only a selective range that is on sale and you wish to draw attention to this with a specific, temporary URL.