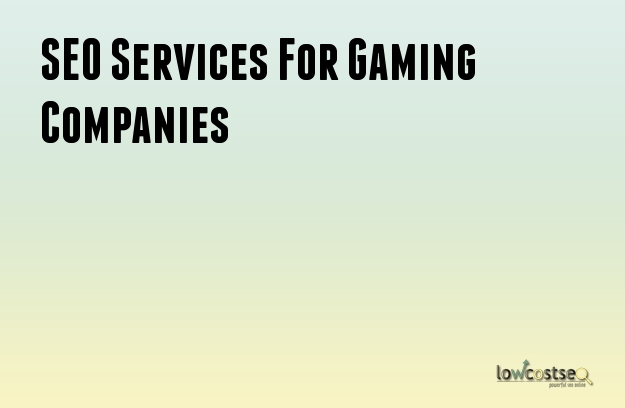 The gaming industry is a wide business and, no matter where you look, competition can be strong. As such, businesses need to do what they can to stay ahead.
Of course, with an industry such as gaming, the internet has long been involved. With SEO, this has only increased. As such, you can't afford to stay still while your rivals continue. Here's how our SEO agency could benefit a gaming business.
Understand Your Niche
Gaming is a big industry and few companies, if any, operate across the entire spectrum. Are you a game developer? Publisher? Retail store or hardware specialist? The list goes on. As such, it's vital that you stick to the right choice of keywords.
That said, many companies often find they have to split attention between corporate relations and a customer-facing aspect. This often results in a complicated website structure – one which doesn't help when it comes to SEO.
Your website optimisation should look to make your corporate and customer sections two distinct websites, if possible, or at least ensure one is a dedicated sub-section of the other. For example, you may want to advertise your products or services through PPC. If so, this should lead directly to the commercial pages, avoiding your B2B or corporate area entirely.
Make The Most Of Media
Since your audience has an interest in gaming, it makes sense to assume that they respond well to visual stimulus. Use videos and other forms of content to your advantage.
If you're making a product with a visual element, show this off through videos. Direct footage of your product or service in action will really get the point across and can be used across YouTube and Social Media to generate traffic back to your site.
Interaction
Speaking of social media, gaming is one industry that makes high use of the internet for social purposes. The gaming landscape is ever changing, so there's plenty of opportunities to discuss new developments surrounding your business – even if it's not directly about your products.
This is a good way to get your brand out there. Try using social media to comment on the latest trends with customers, or develop a blog that covers emerging themes as they develop. Gaming is very much an area where establishing yourself as an expert authority can be highly beneficial.
Let Your Users Generate Content
Finally, the gaming industry is one area that has many unique ways to generate organic links. Much of this can even be done through existing customers.
There's a reason game studies offer free keys for online games, or hardware developers send out free products to online personalities. This helps generate natural, organic links. Because these people are already associated with your brand, there's a strong chance this ends up with positive content that links directly back to you.
The trick here, as far as link quality is concerned, is to ensure that you avoid low quality links. Similarly, avoid dealing with multiple people on the same network, as it all may simply come from the same IP range, negating its uniqueness.