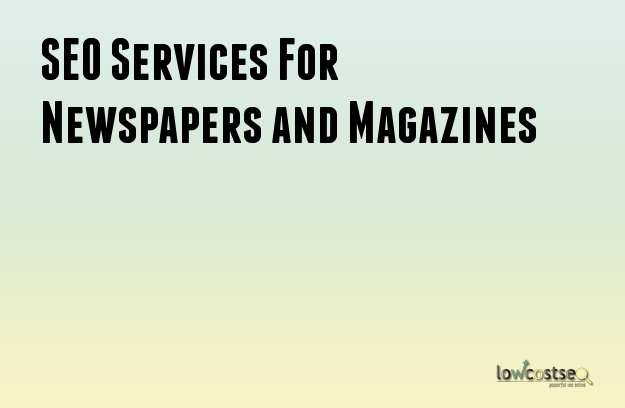 From the perspective of an SEO company, newspapers and magazines have a number of unique challenges when transitioning online. Primarily, you have two concerns:
As a source of articles, you are often linking out, but gaining links back is not as easy.
If your financial model requires people to pay for your content, then you need to find a way to drive traffic without using your most valuable content, as this will likely be behind a pay-wall.
Let's see how we can work around these two challenges.
Keywords
Depending on the nature of your content, your goal isn't about improving the visibility of specific pieces of content. Today's news isn't relevant tomorrow, so instead the main focus of your keyword targeting should be on your home page, category pages and other landing pages that are publicly accessible.
However, when writing standard articles, keywords shouldn't be your main issue. If your team are writing about a breaking story, then the keywords will likely take care of themselves. Such content often appears in the Google news section, rather than in actual search engine results pages. Google news focus on trust, industrial expertise and local authority (where relevant, such as local papers) – all factors that are different to keywords. Keep your content unique, relevant and timely if you want a chance of appearing in the news section.
Website Structure – Paid Or Free?
If you're offering free content, such as a newspaper, then your profits come from adverts, which in turn rely on large traffic volumes. As such, you can focus on traditional SEO targeting, by improving the visibility of your landing pages and ensuring you rank highly for local news searches.
On the other hand, if you're a magazine with a pay-wall. or subscription, then you need to consider which parts of your site are free. People need to experience your content before they offer money, so you need some compelling content available for them. Similarly, this needs to be updated on a regular basis. A great article from 2015 might not be relevant today and you'll simply drop down in visibility.
However, some websites often have articles displayed, only to be covered with a pay-wall. half way through. While these may seem good, you have to keep an eye on them. The entire article can be crawled via search engines, but users can't read the while content themselves. As such, they may become frustrated that the information they thought they were going to read isn't readily available. This can result in more traffic, but a much higher bounce rate.
Gaining Links
To gain links for various articles and pieces of content, you shouldn't worry too much. If you cover companies and other events, for instance, they might share your coverage. Similarly, social media is a key area to gain exposure. If people like your content, they will share articles over social media channels themselves, generating natural links.
Furthermore, your more unique content, such as exclusive interviews and information sources, can be linked to by other websites that wish to back-up their own content with your data. In other words, having unique, worthwhile content for your users will always be a key part of any SEO strategy.
As you can see, there's a lot to think about. Certainly, newspapers, magazines and other article-based websites have a lot to consider. Not least of all, you need to keep track of your website structure and on-going archives, too, as your website will only get larger and larger overtime.