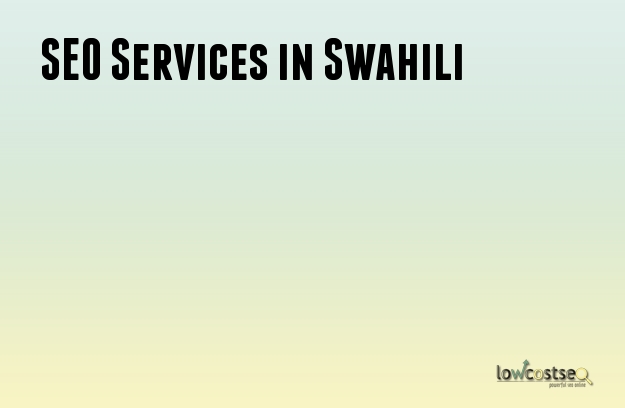 LowCostSEO is a leading name in the field of search engine optimization and it is offering high quality SEO services for those clients who want to target Swahili speaking audience. Doing SEO in foreign language has never been easy as people generally lack the expertise and authority in that language and this eventually leads to confusion and for that reason the site fails to gain the exposure that it deserves. But with LowCostSEO, you would not have to face this problem anymore. We are offering SEO services on Swahili language so that you can reach out to those audiences who communicate in Swahili language or who usually make search in that language.
Why Swahili SEO Is Important
You simply can't achieve better visibility with traditional English language SEO services if you are targeting Swahili speaking people. You need to find an SEO partner who is well versed with different aspects of Swahili SEO otherwise all your efforts might get wasted. We have designed our Swahili SEO services in such a way so that it meets all your requirements and helps your website gain better visibility on search engines result pages.
What Makes Our Swahili SEO So Unique?
The best thing about Swahili SEO service is that it is extremely affordable. We are well aware of the budget constraint of small business owners and for that reason our charges are very minimal. You would not have to invest huge amount of money to avail our Swahili SEO solutions.
Our Swahili SEO service is tailored made. You will get to choose what you want to avail and what you don't want to include in your custom SEO Swahili package. Thanks to this flexibility, you would not have to pay for the things that you don't want to include in your SEO Swahili package.
We strictly hate spammy SEO activities. Our Swahili SEO package only includes white hat SEO tactics and that means that your website will always enjoy prominent visibility online.
We have hired some of the best SEO professionals in the industry. So, your website will be in safe hand and you will see a steady increase in the number of visitors to your website.
We will analyze your website thoroughly and will come up with a unique SEO strategy so that your website manages to get higher ranking while searched with related terms in Swahili language.
Why Choose Us?
Because we are UK's one of most trusted SEO companies who have a solid and impeccable track record. Our SEO services have been appreciated by most of our customers and this is what has helped us win the trust of people. You can read the testimonials to get to know what clients have to say about the quality of our SEO services.
So, what are you waiting for? Just get in touch with us to know more.