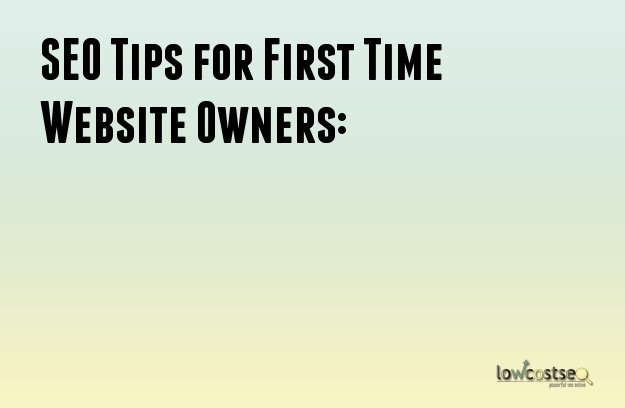 Did you venture into the world of e-commerce recently and created your first ever website? Then you need to learn the way SEO works. If you don't, it would be very difficult for you to keep your website afloat on the search engines across the Internet. Your competitors will get more visibility than your business website, and thus, you'd be losing out on competition with them. If you have created a website, you must have heard of the terms 'SEO' and 'keywords'. But you must be quite ignorant of the ways you can optimize your website or can divert a large number of traffic to your website. So, how do you do that? Read on to learn some wise and useful tips for doing SEO of your website…

·Did you decide on the keywords that you'd use to make your site popular on the web? Now, use these keywords in the title Meta tag of your website. This will help search engines cache your website better and more easily than others.

·When you are writing the Meta description for your website, make sure that the keywords are included in the description too. Write a short and crisp description of your website. However, you must make sure that all or most of the keywords are there on the description tag of the website. you also need to make sure that you are wrapping the page title with the
headline.

·If possible, include the keyword that you are doing SEO with in the URL for the website. It would mean that your website will be easily be cached by the search engine bots. When writing the content for your website, you need to make sure that there is a uniform use of keywords throughout the content of the website. You need to make sure not to do keyword jamming by putting too many keywords in a certain area and not using keywords at all in the other areas of the page. There should be uniformity as discussed already.

·If you are posting pictures and photographs to the website, you need to make sure to add ALT tags. ALT tags help the pictures in your website to get visibility.

·While optimizing your site, you need to use the links to different inner pages of your website too in addition to the home page. This would mean that there would be a large number of visitors to your website and that you would be able to turn a majority of them into customers.

·Even though many would tell you not to write lengthy content for your website as no one would be really interested to read those, the opposite is actually suggested when it comes to getting success with SEO. IN this, you actually read content to be read both by the humans and by the search engine robots. If you are making the content of your website interesting, definitely the visitors would happily go through the entire length of the content you post on the website.You must remember these helpful pointers while doing SEO for your website, not just for the first time, but always.