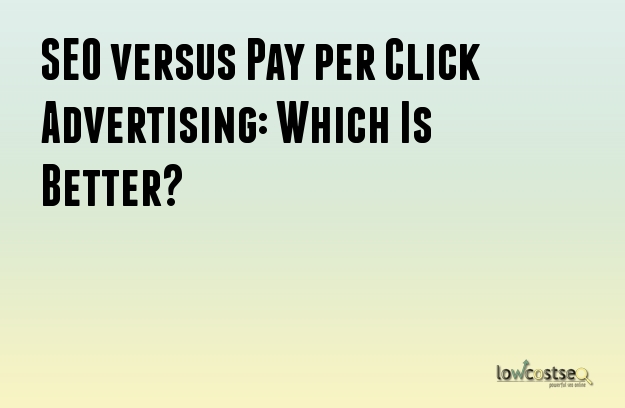 You have finally managed to create a brand new website for your business. Now, you will want to increase the number of people that visit your website. This can be done quite simply as all you need to do is drive the web traffic to your website.
You can choose from various methods to increase the flow of traffic to your website. This can be done online as well as offline. However, two of the most popular ones are pay per click advertising, also known as PPC, and search engine optimization, also known as SEO.
What is Search Engine Optimization?
Search Engine Optimization or SEO allows your website to gain traffic by ensuring that your website has a high rank in the search engine results pages of Google. Using the best SEO procedures and practices will make your website get displayed in the first results page and maybe in the first rank itself. This makes your website more prominent and more traffic will be attracted to your website.
What Is Pay Per Click Advertising?
Pay per Click or PPC allows you to get your website advertised on the sponsored results section of the Google search engine results pages. You will of course have to pay for this advantage. The fee is determined by the popularity and competitiveness of the keyword you have chosen.
Advantages of SEO
The returns on investment for SEO will increase slowly over the passage of time. You will still retain the benefits after you have stopped the investments.
People who search tend to place more trust on a website that as a natural listing. They are less likely to trust sponsored links.
The cost of investments in SEO is more or less fixed and does not depend on the number of people visiting your website.
Advantages of PPC
PPC brings results almost instantly and is capable of generating early visitors.
Search engine algorithm changes have no effect on PPC.
People who visit your website through PPC advertising are more likely to make purchases than those who have used a link.
Disadvantages of SEO
It takes quite some time for the results of your SEO campaign to become manifested. You need to keep investing in it regularly so that it improves.
Search engines make changes to their algorithms regularly. You will need to update the SEO of your website or you will lose your rankings.
It is possible for companies to invest in unethical and black hat SEO techniques to get ahead in the rankings.
Disadvantages of PPC
PPC is difficult to master and requires extensive studying and testing in order to ensure best results.
You will have to invest money in PPC advertising so as to attract traffic. If performed incorrectly, the entire investment is wasted.
People place little trust on advertisements and this extends to PPC as well. They do not like to see advertisements being forced on them.
Each of these methods allows you to gain traffic for your website. The method you choose to implement should be carefully implemented however.
For increasing the visibility of the web site, it is important to get it optimized. Search engine optimization is a good way to achieve this end and so is PPC. But, most marketers make the mistake of using either one of the campaigns. If the two are combined together they can give even better results. With the combination of the two the campaign goals can be met easily.

The first part is developing a comprehensive SEO strategy, that will surely help you rise on top of the search engine visibility. You will also get responsive feedback from the customer base. The PPC or the pay per click directs the web site traffic to the displayed ads and banners. This is said to be very cost effective and you will be able to come into direct contact with your customers.

Combining both the processes need to be in a systematic way. Combining both needs to be done very carefully. The steps
that you should take for the successful combination are:

The first step is setting up the PPC campaigns. This is a very important page as it will direct the net traffic to your site. They are usually the most effective when they have ad groups attached to the relevant keywords to the page that you want the visitors to go. If it is not done in that way, the search engine to send the visitors to the homepage and that will not be as insightful as you want.

Adwords account link with Google analytics: This is the second most step that you must definitely follow. This will also help you gather the data and the statistics better regarding the type of customers, conversion rate and bounce rate. In short this will give you a proper idea regarding the condition of your web site and if needs attention.

Combining SEO and PPC

The first step to this is creating a landing page. The pages need to be targeted in order to get the best in SEO and PPC goals.

The next step is going for the right keyword selection. Keywords are very important for SEO and successful optimization of the sites. Due to Google's change in algorithms, the Adwords have turned out to be the most reliable tool where keyword assessment is concerned. You can do it by analyzing the Adwords keywords and then export the results to the aimed site of SEO practices and strategies. The paid search ads can be quite pricey and one may find difficulty in purchasing them.

Then you can bid on your brand is a very good idea since it will help you achieve dual advantages. You brand's value will increase significantly and you will gain reinforcement. If the searches are branded, it usually gets higher conversion rate and the costs are also significantly lower.

PPC for building links: You can use the PPC to promote your content and the SEO. The two work well together and will help you gain more hits.
Image Courtesy:
twitter.com