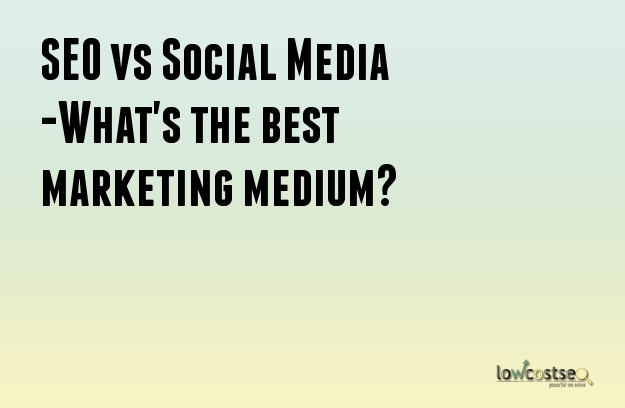 SEO vs. Social Media: Integrate or Eliminate?
Since the advent of Social Media, the landscape for online marketing has been reshaped. Businesses are being challenged constantly to tweak their marketing efforts in order to maximize their reach.
You don't have to be a rocket scientist to know that Search engines are the first place people go to whenever they require specific information. Based on this factor, it is imperative for businesses to dedicate part of their marketing efforts to Search Engine Optimization (SEO). The ultimate aim of online marketing is to draw web surfers to your website, from which the posted content can entice them to perform your desired actions.
So how does Social Media challenge and undermine the importance of SEO?
Between both options, which one should you select for your marketing campaign?
The main difference between both mediums is Interaction.
When Social Media sites were first created, they were only popular among those aged 12 to 25. As more features and applications are being developed, age groups above this primitive group are now starting to accept Social Media as part of their life. The ability of Social Media has seen our parents reconnecting with their long-lost friends.
The conventional method of distributing your content online via SEO relies primarily on people searching for it. With Social Media (e.g. Facebook pages), businesses can leverage on this innovative distribution channel to reach users of these sites who may not have searched for content related to your niche/products/services, but are subsequently interested after reading a snippet of your content off their Facebook wall.
So why do people still go the SEO route?
SEO gives a website stable and long term exposure that expands beyond your location, albeit the ever-changing Search Engine algorithms that could instantaneously remove your website from the search results. You can think of SEO as an organic way to build your online presence, similar to your daily intake of food. Bear in mind that the ease of search engines in bringing you tons of information with just a click means that there will always be a market for you to tap on. With a plethora of information available online, it is vital for your website to appear on the first page of the search results, or risk becoming non-existent.
Social Media gives you the ability to retain and relate to your customers (i.e. direct marketing) by allowing you to promptly reply to any comments or queries with regard to your services or products. Even though websites do have communication functions such as live chats or comments, there is no incentive for your potential customers to constantly return to your website just to carry on the conversation, as compared to Social Media sites where this process is instead convenient for them. Social Media is also a method for you to assess your reputation among the online community. It is extremely easy for a bad comment about your business to spread virally. Being involved in these sites can allow you to alleviate the damage before it kills you in a subtle way. You could think of Social Media as health supplements to boost your health.
In order to stay competitive in this modern era of online marketing, it is imperative to integrate both methods into your marketing campaign to achieve an optimal impact online. It is foolish to choose only a method as both target different audiences, just like food and supplements, where a combination of both is required for you to be in the pink of health.
Check our social media plans here