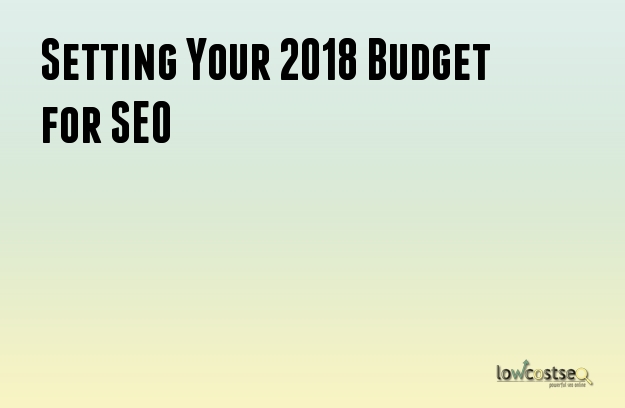 Let's talk about 2017, was it a good year for you? Did you have any emotional or spiritual awakening? Are you able to implement your SEO goals before the year ended? Hopefully, you've got something good. If not, well maybe in 2018 you'll be able to catch up and start something new.
In terms of budget, the SEO business can be both pricey and cheap, depending on your choices and requirements. Last year, maybe you were able to spend less than what you expected, or more due to unforeseen events. To determine your expenses this year, we need to use 2017 as a guide.
What Did You Miss Last Year?
Or, what went wrong before? What types of investments should you neglect or change? Try not to make the same mistake twice as it can cost you more.
What Do You Want to Accomplish This Year?
Does your site need redesigning? Are you planning to outsource to focus on your business? Do you want to double the amount of traffic you've had last year? What are your budget limitations?
Budget Considerations
For 2018, let's find out what should be prioritized so that you'll know where to place your money.
· Lengthy articles and other types of content. Nothing's changed when it comes to Google's appreciation towards original content. This is the most reliable tip when it comes to making it in SEO. But aside from articles or blogs, Google is encouraging web creators to use videos to improve content quality. Finding companies or freelancers that produce high-quality content may save your site, but it can cost you. Hopefully, alternatives can be found in your company.
· Advertising and audience support. Even the best contents need readers. To reach out to them, we need to make a noise (or just an ad). This is not obligatory though, we can still use free platforms such as social media, to reach out to viewers. But if you are doubling your efforts this year, you can either let your social media marketing team do the heavy work or pay for promotions to trusted channels.
· Additional manpower or outsourcing. Usually, companies are willing to invest in this because of competition. There are different reasons why a company needs to outsource or hire an SEO freelancer/firm. And it can push your site farther than before because more people are working hard to reach a goal. Let's not forget the implementation of technical changes as well: Mobile access, voice searches, loading speed, redesigns – you might need more people for these.
· Previous expenses. If you are paying for your domain, manual link building, additional data – and you still think that they are efficient, then don't forget to add them to this year's SEO budget.
What If This is My First Year Investing in SEO?
And you have no guide from last year, then you can follow and read blogs written and produced by those who are in the same industry as you. You can also consider what's mentioned above. Don't expect that you'll be spending the exact same amount though.
You might need a four-digit expense, depending on your limits and goals for this year. Still, there are cheaper ways of boosting SEO without harming the earned organic traffic. In making investments, make sure that your money is converted into positive results.