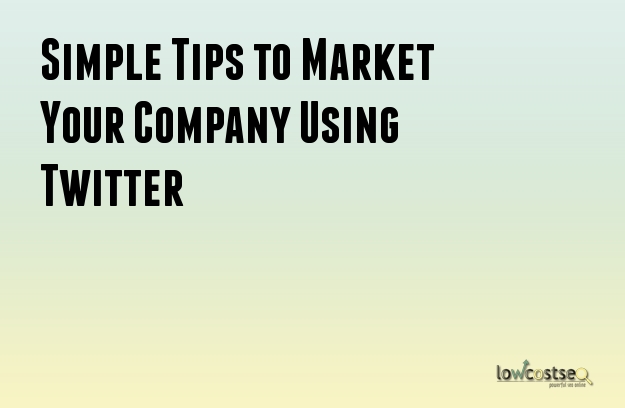 You might already be using twitter to market your company. If you are not using Twitter then you need to start using it. Twitter has become an incredibly popular social media network and it can provide a good boost to your internet marketing activities.
Twitter is a great platform where you can connect with the other companies as well as your customers. However, you may face problems when you are trying to market your company through Twitter. It is easy to get overwhelmed with all the activity that takes place in Twitter almost every second. You should not get daunted as it becomes quite easy once you get used to Twitter.
Tips to Market Using Twitter
Marketing through Twitter can become an easy process by dividing the requisite tasks into groups. There are many tips that you can use to make marketing through Twitter an easier process.
The Company Twitter Profile
The profile is the most important part of Twitter. Your customers or followers will visit the profile to find out more about your company. They should be duly impressed by the profile.
The profile of your company should contain a customized background unique to your company. Avoid using the default or any other stock images.
The photo of the profile should be a headshot.
The bio of the profile needs to be as detailed as possible without become boring and tedious.
You should not forget to incorporate SEO keywords into the bio.
The bio should contain a link to your website or your blog.
The profile photo of your company can never be left blank.
Add as many details as possible to the background.
Monitoring and Listening To Tweets
You should keep track of the tweets revolving around your company. You need to know how your customers perceive you.
Download an app or software to keep track of all the tweets and organize them in the appropriate manner.
Ensure that all your followers are properly organized in lists.
Keep track of your tweets by using hash-tags.
Monitor the tweets from your company to check how many responses you are getting.
You can create separate lists to keep track of the competition businesses and their tweets.
Use the schedule feature to your advantage by scheduling tweets to be posted in the future.
Do not forget to follow the various Twitter chats whose topics are related to your business.
Keep track of the buzz that is created around your events.
Integration with Twitter
One of the beauties of Twitter is that you can integrate it with other components of internet marketing. This improves the reach and scope of your internet marketing by a significant margin.
Add the Twitter button to all blog posts as well individual articles.
Tweet about your new blog posts.
Integrate the Facebook account and the Twitter account of your company. Let followers of both groups become aware of the posts in the other account.
Ensure that all your marketing materials, including the offline ones, mention the link to your twitter account.
Your emails should have the twitter button ion its signage so that your customers can follow your instantly.