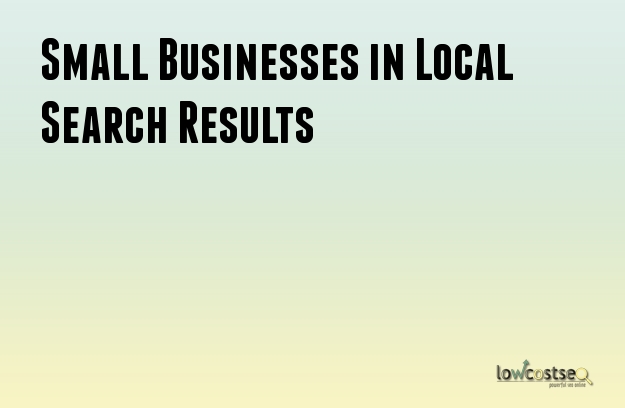 The web is an online directory where small business owners can advertise their products and services to potential customers. It has grown so big over the years, and business owners are now considering SEO as one of the main factors in boosting sales.
If you are a small business owner, showing up in your area's search results will be your priority. To do this, you must implement proper Search Engine Optimization techniques, or work with a reliable SEO company, to be recognized in the local searches.
Almost everyone wants to make it on top of Google's search. Once upon a time, it was as easy as typing in the right keyword. But the folks at Google are also evolving to make the system safer, accurate and useful. They have been creating algorithms and updates that eventually makes SEO more complicated than ever. The keywords, web design, plugins, themes – those are just the basics, something almost anyone can already do themselves. Finding out the root cause of not making it to the local searches is what will help you choose the effective methods.
This is where SEO experts discuss and study the movement of these searches. They have noticed how Google filters other businesses in the Local Finder. The Local Finder is found when you search a business on Google, and a series of results are shown beside a map.
If your company is one of the unlucky ones who got filtered, the reasons could involve proximity, your physical address, or choosing so much in the Google My Business category. Typing in the correct details of your services will help Google know what your specific category is. Remember that you should only input enough to make it easy for Google to identify your business.
As for how the world is, competition is also tough in making it into the first page. It's also going to be about overpowering your competition when it comes to what they are doing right and catching a visitor's interest. Gather positive reviews, and interact with them often so that there's activity on your page, keeping it alive and open for inquiries. Traditional SEO will keep you on track but customer engagement will be your strongest tool. To do so, start by responding to messages and reviews. Make sure that when a client calls the number shown on your page or post, someone on the other end is ready to provide answers to their questions.
We introduced you how other local businesses can outrank you in Google anytime soon. Hopefully, this article will help you understand the number of factors that can affect a Google search. And if a ton of factors is working behind the scenes, that means there's also so much a small business owner can do. Working with an SEO company that provides monthly check-ups and reports on your site ranking will be a good start. A combination of technicality and positive entrepreneurship can eventually lead you to loyal clients that will provide additional help in boosting your local search ranking.