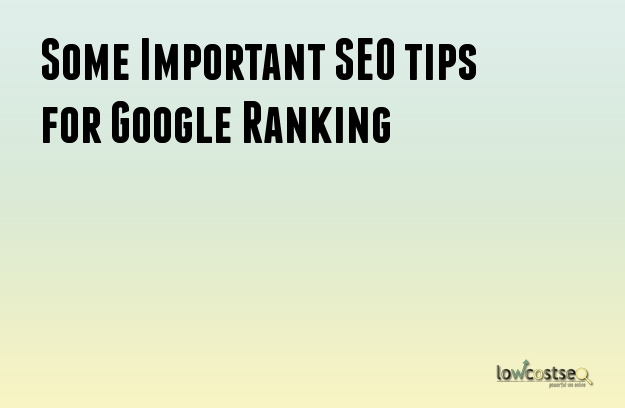 When you own a business website, you will obviously want a lot of traffic to be diverted to it. However, you do not need useless traffic. You will need traffic that is highly targeted and willing to become leads for your company. The ranking of your website must increase on Google in order for that to happen. Of course, you need to ensure that you do not get penalized by Google in the process.
In order to achieve the rather lofty goal of the number one spot on Google searches, you can make use of the following tips. You may be familiar with some already.
Implementing Anchor Text
Google has reduced the importance that it once used to place on keywords. Therefore using keywords in your anchor text will not be able to fetch you a higher rank like earlier. You will now have to create links by using the relevant phrases as your anchor text. It can be a basic sentence or it can be your company name. As long as the text is relevant, it can be transformed into an anchor text.
Designing For Mobiles
The number of mobile users is on the rise. Users of smartphones and tablets are on the increase. Almost a third of all internet traffic originates from one of these mobile devices. You need to ensure that your websites have been designed with style sheets that can render well on a smaller screen. Optimization of the website for mobile devices is required because of the guidelines laid down by Google.
Advanced Research on Keywords
The best way to research the value of your keywords is through PPC. PPC can help you measure how much impact a particular keyword is making. You will be able to determine the keywords that can bring your company sizeable returns on the investment. Moreover, you will save hours that would have been wasted on optimizing your site with the wrong keywords.
Building Links Creatively
Directory submissions have lost their importance in SEO. Google prefers websites that have good quality links. In order to get good quality links, you will have to become creative. Infographics and social media recognition can help create a buzz around your website which in turn brings shares and links.
Avoiding Over Optimization
The Google Penguin algorithm has been specifically created to recognize and penalize websites that have been over optimized. Signs of over optimization include stuffing of keywords. Using the same anchor text to build numerous links is also considered over optimization. Place more importance on building links and content that are natural. Use social media networks to your advantage.
Keeping Your Website Fresh
One of the things that Google hates is websites that have no use anymore. You will have to ensure that your website stays fresh by posting new content on a regular basis. Implement a blog in your website where you can post new content on a regular basis. A feed from the blogs should be added to your homepage to keep it fresh as well.
Keeping a steady and high rank in Google is by no means an easy task. It requires a lot of effort.