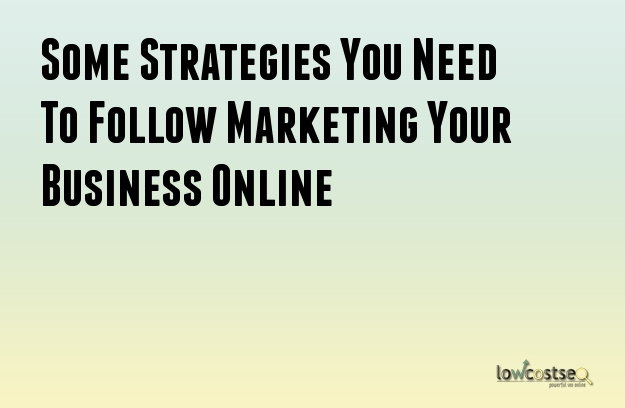 Have you started a new business? Are you on a look out to market your business online? Are still confused about achieving this goal?

Online marketing is an intimidating platform. If you do not apply proper strategy for marketing, it can go astray. There are various components that needs to put together to successfully manage the online marketing. Here are some steps you need to follow for online marketing.

Tips for Online Marketing

Identify your target audience: Conduct a research to determine the type of audience that is being targeted through your marketing strategies. Make sure that they are the appropriate type of the customers you require. If not then try altering your strategy. Also try to find out the stratagems of your competitors. Analyze their marketing strategies and plan out your own accordingly. Make a list of the best practices of your competitors that is earning them customers. This will help you gain customers for your business.

Optimize the website for SEO: The website should be thoroughly optimized for the SEO ranking. Include such keywords in your website which you think your target audience would type to look for a product. The content of the website should be of high quality. It should be unique and should be capable of capturing the attention of the audience. It should be informative for the readers who want to obtain information about a product or service you offer. The contact information that you provide on your website should be easier for the audience to find out.

Off-page SEO Optimization: Provide the name of your website only on popular directories and make sure that you post your ads only websites which has high traffic. Use high quality blogs to increase your backlinks. Create some videos of high quality, which will display and advertise your products. Then share these videos on social networking sites.

Update the content: Your website should have a blog that would provide information and educate your customers. The information should be relevant to your business. If you provide irrelevant information it can create disappointment among the customers. The content should be updated from time to time. The frequency of content update should be consistent. Neither should you update content incessantly nor too infrequently.

Social media marketing: Build up a social media background by using the social media sites like Facebook, Twitter, LinkedIn, YouTube, etc. Interact with your customers through these sites. These will build up relationship with your customers which in turn will be good for your brand name. Give some information about your products and services on social media site to build up your reputation. Spread out some contents related to your products throughout the social media site. This content may or may not be created by your content team.

Email marketing: Use Landing Pages to create a list of Email Subscribe. Communicate with your customers through emails. You can interact with your target audience through the email marketing. You can talk with your customers about the products and services that you offer.