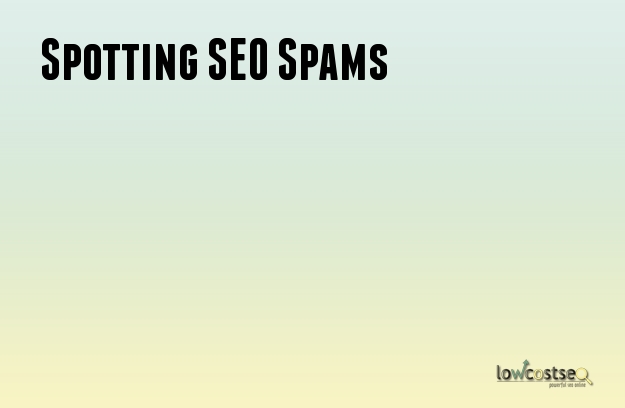 Search engine optimization is an organic and legit technique of increasing the page traffic to a particular web site. Competent SEO services Australia optimizes the web page with certain relevant keywords that play a vital role in increasing the ranking of the web site. So, when the prospective customers search the internet with those keywords, the web site ranks high on the search result page.
But, sometimes manipulation techniques are also used for increasing the profile ranking. It is called SEO spam or black hat SEO. This is basically a way to garnering high rankings without following the guidelines of the search engines.
You may often receive emails where the companies may persuade you to take up certain services and advice you on improving the web site ranking. These offers are not always legitimate and you should delete it immediately on receipt.
Here are certain signs that will help you spot the spams:

Not Personalized: The bots or internet spiders can get hold of your email address and contact info at any time. They send automated emails to everyone claiming to improve their position in the search engine. If the email does not consist of the actual name of the contact person, it is probably an automated message or spam. If the pitch is real, it will address the proper person and have real knowledge of your company.

The Sending Company Will Not Have A Name: this is a big pointer as a best SEO company should certainly have a name. The spam will not have a company name in it though it may have an address. Most of spams claim to be based overseas and give you a tentative address trying to look legit. There are high chances that if you try to search the address on internet, it will turn up nonexistent. Do not fall for these traps and delete the emails immediately.

·No Company Email Address: The emails sent to you will be from a burner account and not from an actual domain. If the email is legit it will always be from the company domain address otherwise there is a high possibility that it is a spam.
·Vague Claims: the email can claim certain vague things like 'we have reviewed your web site and it has certain ranking and you can use this technology, etc. It will use vague terms like best, etc. If you find emails that have vague claims it is most likely a spam.

Bad Grammar: If you find emails with bad language construction and grammar, it is probably a fake. A legit company will always pay attention to the language, format and content of the emails it forwards to the clients.

Guaranteed Rankings: It the email claims to give your web site guaranteed ranking, like number 1 on the search results of Google and Yahoo, it is obviously a fake. No legit company can make such claims without starting work. If they tell you that you can buy the high rankings it is certainly a red flag.