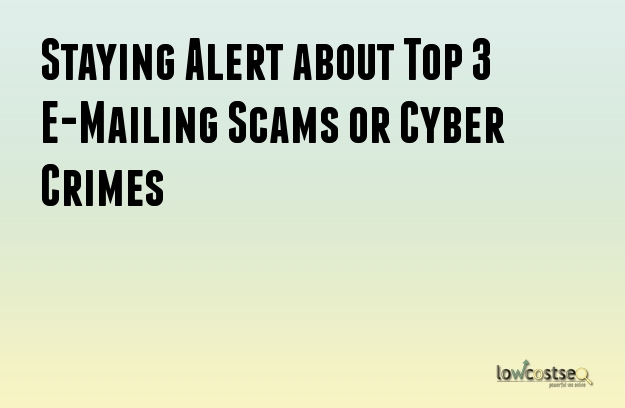 The Internet has become a core platform on which students depend for their academic information; businessmen depend for the smooth running of their business in the virtual world and others for valuable information. These days almost everything you can think about is very much dependent on the Internet and is available on the Internet.
These are all the positive impacts that the Internet platform has given the society, but there is also the other side of the coin i.e. the negative side of the Internet. Yes, cyber crimes are spreading like a virus on the Internet. There are millions of people who become the victim of cyber crimes. The colloquial name for such crimes is 'scams'.
Individuals are not only the only people who are victimized, even big business organizations are affected by cyber crimes or scams. Cyber crimes are conducted by professional and efficient hackers. They are the masters of the dark side of the Internet world! However, there are about 3 top most scams that are going on these days. In order to keep you alert and aware about these scams here is a detailed description of them.
The Nigerian Letter Scam Or 419 Scam
In this scam, you will be sent an official e-mail by a foreign agency where you will be requested to help in transferring a certain sum of money outside your territorial region. You will also be promised to get a cut for the help you provide. Initially, you will have to forward all your bank details and some funds as processing fees. Unfortunately after sending all the details you will not get what you have been promised in return. This way they will steal your bank details and withdraw all your cash.
There are methods to avoid falling into such scams. First of all do not reply to the e-mail. Do not click on the links that have been provided to you. Waste no further time and inform the necessary authority about such spam mail.
Spoofed Banking Scam
In the beginning, you will be getting an e-mail informing you about a security breach considering your bank account. You will be provided with links that will connect you to your bank. Opening the link, you will be asked to input all your details like you username, password and also your debit or credit card details. The reason for sending this website is to steal all your money and your bank details.
Here is how you can avoid falling into the trap. Do not clink on the link to enter your bank website. Directly type your bank website on the URL.
The Treat Scam
E-mailing is the only source of communicating in these types of scams. You will be sent an e-mail threatening to physically harm your family or assassinating you. The main demand through this e-mail would be for a hefty ransom. These e-mails will also consist of viruses.
There are simple ways to avoid such spam mail. Never reply to such e-mail as replying would mean to encourage them for a longer conversation. By replying you are actually alerting them that your e-mail account is active. Keep a close eye on your social media details make sure it is not public. The scammers may be using your details against you.