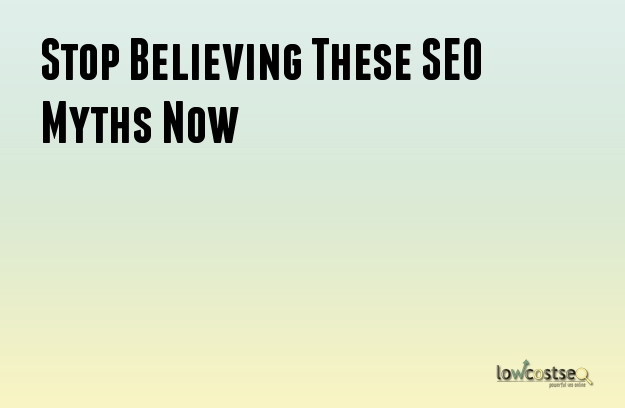 Google does update its search algorithms on a regular basis. After all, it does not want any unscrupulous business to beat their system and get a high rank illegally. Be that as it may, it does create quite a bit of confusion among people who are new to the world of search engine optimization.
When you are new to optimizing your website for the search engines, you are bound to come across contradictory pieces of advice regarding SEO. There will be many pieces of advice that are completely wrong and if you want your SEO campaign to be successful, you will have to stop listening to these pieces of advice. Some of the most common myths often perpetuated are given below.
Myth #1: Keywords Have Lost Their Importance
Google has added a lot of other factors to its search algorithms. When websites are being ranked, these additional factors such as social media presence will be taken into account. However, Google has never released an update that has decreased the importance of keywords or eliminated them completely as a ranking factor.
On the other hand, using a lot of keywords has been banned by Google. Over optimizing your website with keywords or using a lot of anchor texts that are rich in keywords are activities that you need to stop.
Myth #2: Meta Tags Are Unnecessary
Meta tags do not affect the rankings of your website certainly. However, that does not mean that they are unimportant. These tags will help users understand what your website is really about. Even the search engines use them for this purpose. Attractive Meta Tags can increase the number of clicks which is beneficial for your business.
Myth #3: XML Sitemaps can boost SEO rankings
An XML Sitemap has nothing to do with the rankings of your website. Instead, they are used by the search engine bots to crawl through your fresh pages and index them faster. An XML Sitemap is essential for your website certainly. However, its importance does not lie in its contribution to rankings. Rather, it is important for making the navigation of your website smoother for the search engine and the user.
Myth #4: Keywords Should Not Be Placed In Anchor Texts of Backlinks
Google does not like to see websites optimized with lots of anchor texts filled with keywords. However, you should not eliminate them completely. Keyword anchor texts are certainly important for getting a good rank on websites. You simply need to avoid using them too much.
Myth #5: Guest Blogging is Completely Useless
One of the most commonly perpetuated SEO myths is that guest blogging does not have any value whatsoever. Guest blogging can still be useful. However, the blogs should be relevant to the niche of your own blog. It should be unique and optimized appropriately with links and anchor text.
Search Engine Optimization can seem to be difficult. With a bit of practice and knowledge, you can easily overcome its problems. Instead of listening to such myths, you can conduct your own research into the effectiveness of the various SEO techniques.