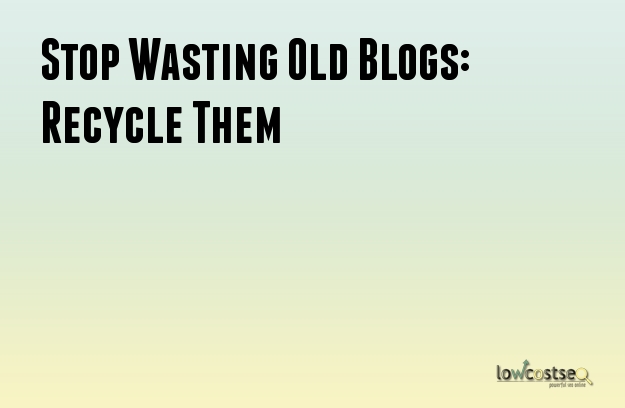 One of the best tools for any website is a blogging section. Of course, it is not always possible to keep up a stream of good content. This is all the more true for small businesses. They are unable to devote time or resources to maintaining a department specifically for managing the content. It may not possible for them to dedicate a part of the budget for creating new blogs continuously.
However, that does not mean, it is impossible for you to remain consistent with your blogs. If you already possess a healthy blog with lots of content, you can easily reuse them. You can use the following tips while recycling old content.
You can transform old content into an email newsletter for your subscribers and customers. After all, you already have great content. You do not have to go through the hassle of creating new content simply for a newsletter.
The content of your blogs can also be transformed into a slideshow presentation. You can use Slideshare to create these presentations and embed them. Slideshare presentations can be shared as well, making them useful as social media posts.
Curate your content and create a PDF file. Allow your readers, customers or fans to download these files.
There are many types of blogs which can be converted into infographics. They include tips, FAQs and guides among others. These image files can be a great way to refresh the same content.
If you already have an extensive collection of blogs, you can think about making them into an eBook. In that case, choose the most popular and valuable posts for the eBook.
Alternatively, you can create podcasts out of the blogs. People will find it easier to keep track of your content while on the go.
You can create videos out of the blogs as well. You can speak about the content, add suitable images and short clips in the video and then post it to YouTube. This allows you to reuse old content and make use of an extra social network.
Curate the most helpful tips or useful content in your different blogs and create a new blog out of it.
List type blogs can be put to great use on social networks. You can share one tip at a time on the different social networks. If you want, you can also link them back to the complete list.
There is no need to display the entire blog on the front page. Opt for excerpts instead.
At the same time, you should not stop displaying your old blogs. If you are using WordPress, use the sticky post feature to shine the spotlight on old blogs. Feature old content whenever possible.
Do not forget to have a section dedicated to showcasing related blogs in every post.
You can rewrite old blogs to refresh them.
You can always share old blog posts on your social media profiles.
There are innumerable creative ways you can utilize old blog posts. You simply need to search the most suitable option for your content. However, do not forget to add new blogs from time to time.