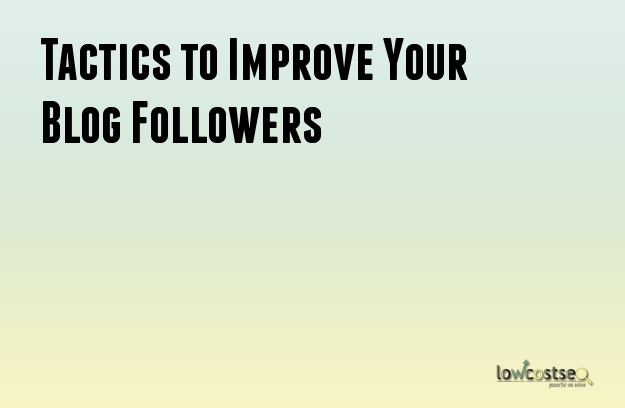 Everybody around seems going gaga over the idea of content marketing. Now, for most marketers, the concept of content marketing starts with launching a blog and then publishing great quality articles on it on regular basis. But sadly the job does not end there. Just publishing great quality content is not enough at all; you need to spread the words to your targeted audience and the best way to do that is by building a community around your blog. All this starts with increasing the number of followers on your blog. Now, increasing the number of followers of your blog is not as complicated as rocket science but it is definitely not that easy. Here we are going to share some cool tactics that might help you increase the number of followers to your blog –
Giveaway
Everybody loves freebies and the same goes true with online visitors. To make them subscribed to your blog, you need to offer them more than quality content. You need to offer them some cool gifts like free coupon, great wallpapers or anything nice and cool, and you will see a steady uptick in the number of subscribers to your blog. Once you start offering freebies, people will start following your blog so that they don't miss out any upcoming freebies.
Do Guest Blogging
All blogs start with zero followers and therefore, you don't have to be restless. To make people aware of the existence of your blog and to make them visit your blog, you might consider becoming a guest blogger for some well-known blogs of your niche. This will give you recognition that you want.
Participate in Blogging Events
You can easily locate blogging events taking place in your locality. If you are living in or around a metro city, chances are quite high that bloggers of that city are arranging blogging events every now and then to make people aware of the impact of blogging. You needn't have to be an orator to be able to participate in those events. Just participate in those events, meet with new people and try to spread the message your blog and you will be able to see significant rise in the number of followers. But the outcome is directly proportional to your level of activities on these blogging events.
Comments
You need to visit blogs that are similar to your niche and then post some valuable comments there in. Reply to the people who later post replies against your comment. It is common for people to click on the link left by the commenter. So, by posting valuable and insightful comments on someone else websites, you can boost the visibility of your blog and may be able to rope in some more followers.
Share on Social Media Sites
Try to harness the power of social media sites by sharing the blog posts. This is a great way to grab some eyeballs and you may never know, people might bump up on that post and land on your blog. If they find the post really interesting, they might end up becoming a follower of your blog. So, you need to make it a point that you are sharing blog posts on all social networking channels.