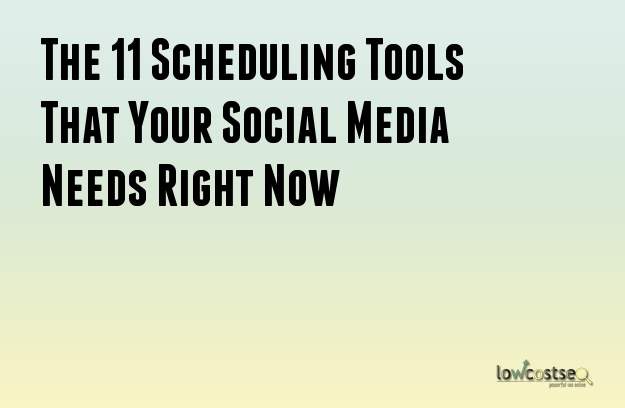 Social media will be the single biggest trend this year in 2016.
Here are 11 different ways to manage your posts on time. All you have to do is know the names to start adding the right arsenals to your list. Here you go –

1 Buffer

Known for its simplicity, what makes Buffer the top buzzer? Nothing, it's the simplicity that makes every social media post a box office hit. If you are indeed looking for an intuitive scheduling and collaborative process, then Buffer is the tool to go for. The tool comes integrated with all the social media platforms that you know of – Facebook, Twitter, Google+, LinkedIn and Pinterest. What features you get depend on the type of plan that you choose.

2 Post Planner

Post Planner is the fastest way to get more engagement on social media, using contents that are audience tested and post proven. Built for engagement, you can share your posts on platforms like Facebook, Twitter, Instagram and Pinterest for an impacting engagement, right on time.
3 Hootsuite

Hootsuite allows users to interact with their audience right from within the app. The best thing about Hootsuite is that it lets you manage every aspect of your social media post apart from just the scheduling. Supported social networks that Hootsuite is integrated with are – Facebook, Twitter, Instagram, Google+, YouTube, LinkedIn, etc.

4 Sprout Social

This is a full-service social management app that comes with a well-organized dashboard service. Users can get data and real-time analytics snapshots directly from the dashboard itself. Sprout Social comes integrated with social media links like Facebook, Twitter, Instagram, Google+ and LinkedIn.

5 AgoraPulse

There is more to AgoraPulse than just scheduling posts. Users can use the tool to create new contests on social media, monitor results and even customize data reports. Supported social network links available on AgoraPulse are Facebook, Twitter and Instagram.

6 Postcron

Apart from helping users schedule their posts, Postcron allows you to add logos and watermarks on every image that you post. The tool comes integrated with sites namely Facebook, Twitter, LinkedIn, Google+ and Pinterest .

7 Sendible

With Sendible users can access data from across multiple social media channels and even keep track of the ROI. Sendible is supported with popular social network sites like Facebook, Twitter, LinkedIn, Google+, Pinterest, Instagram, etc.

8 Everypost

This comprehensive social media app allows users to post their contents on multiple social media platforms. Supported social network sites are – Facebook, Twitter, Pinterest, etc.

9 Edgar

Just like Buffer and Post Planner, Edgar makes social media scheduling pretty easy. It is integrated with sites namely Facebook, Twitter and LinkedIn.

10 Zoho

It will automatically share your posts when your customers are online the most. That is what makes Zoho so special. Users can also monitor brand name mentions straight from the app.

11 LaterBro

Users don't need to sign up or open an account for the service. Just authorize the LB app through Facebook and Twitter and you are free to schedule your posts in no time.
Image Courtesy:
www.thesocialmediahat.com