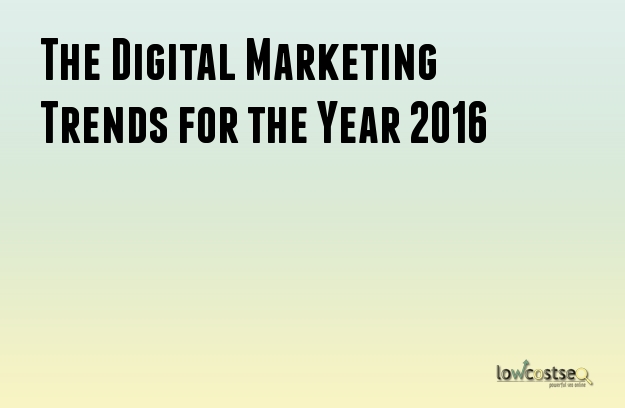 With the advent of New Year, there are certain digital marketing trends to look out for. If you follow and incorporate these trends in your list, you will surely be able to stay ahead of the competition and make a difference.
The best of these trends are:

·Social Advertisements: Social media is a very good place for reaching out to the potential customers. Many businesses have already started using it and seen the difference for themselves. The year 2016 will see more development in the number of online advertisements. If you follow these trends, you will certainly be able to make more business. You can start the process by deciding on the type of audience and the platform that you want to use. Do not randomly allocate your money and budget to different blog posts. Choose the right one, if you want the best results. Action oriented ad formats are useful if you want more lead generation in the process.

·Facebook Messenger: The messenger is a very versatile application. It can be used not only for messaging friends but also for business purposes. It can be used for both B2B and B2C conversations. Since Facebook has a huge customer base, it can be used in form of email marketing too. The customers can be sent push notifications for keeping them updated. In the next year, the tool will be used more extensively for getting better results.

·Podcasts: Many people may feel skeptical regarding his particular tool. But, research shows that more than 46 million Americans listen to podcasts on a regular basis. Since, this tool is one a rise; it can easily be used for reaching more and more audience. You can do it by including ads in the podcast. You can also think about starting a new podcast series of your own. Though it may sound daunting, with the correct strategy you can get it to be popular and people can listen directly to your podcasts.

·Use Native Advertising: The biggest problem that the online advertiser experience today is ad blockers. These tend to block the pop ups from reaching the audience and you are not able to increase your business. This is where native advertising comes into picture. These ads do not have the look or feel of the typical promotional content. Hence, the ad blockers do not detect them as promotional content and ad blockers do not tend to block them. In the next year, this trend will even become popular as more and more ad blockers are coming up to pose a problem for the online advertisers.

·Videos: Videos is not a new concept, it has been around for some time. Audience find them attracting and engaging. So, a good way for the marketers to diplay their ad is through the videos. The year 2016 will see a rapid growth the field of video marketing.

Mobiles: This is an upward trend that has been growing since 2012. The year 2016 will be no exception and there will be much demand of this technology.