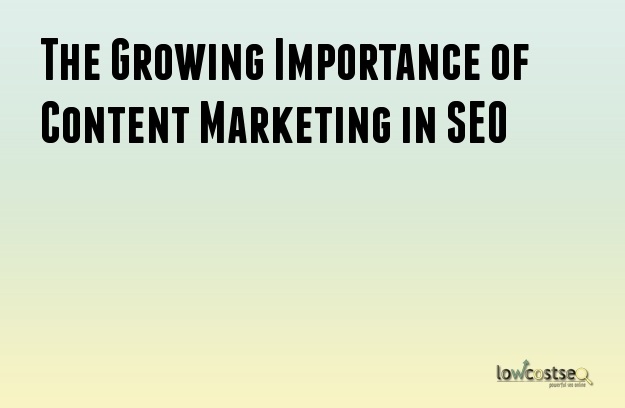 Spam has become a serious problem in today's world. Google is of course trying to ensure that spam is removed as much as possible. Unfortunately, the methods used by Google to remove spam also make it difficult for SEO professionals to optimize a website. This recent trend has caused SEO professionals as well as those looking to invest in SEO to rethink their strategies. The focus has shifted from purchasing quality links to building quality content.
If you wish to ensure that your website gets a good rank on search engines nowadays, you need to ensure that the quality of the content on your website is high. Your visitors should be naturally inclined to share them instead of you asking them to.
The Changes by Search Engines
Google is primarily concerned with ensuring that their users have a good experience while they use its services to conduct searches. This means that Google wants to ensure that its users can view those websites that have a good quality of information about their search terms. They have changed their search algorithms accordingly.
Content in SEO
A website that contains information of a high quality will get ranked higher than a website that contains a lot of information but of a poorer quality. Therefore, you need good and relevant content in your website in order to let it gain the most visibility. The content quality is now crucial to the success of your SEO campaign. Moreover, there are lots of other benefits that you can gain when investing in producing quality content for your website.
The Benefits of Content Marketing
The importance of content has increased drastically in recent times thanks to the changes implemented by Google and other search engines. However, you should not implement quality content only for the sake of it because it does have quite a number of effects on your customers.
The overwhelming majority of customers base their purchase decisions on the quality of the content they find on the website. In most cases, the effect is major. Therefore, you can increase the conversion rate quite significantly by ensuring the content of your website is of a high quality.
Most customers will research the products before they make purchases. If you offer quality and researched content then more people will start visiting your website in order to get the information. This boosts your traffic by a significant margin.
Social media is important and it can help in SEO a lot. At the same time, people are more willing to share or tweet about interesting and quality articles they have read. Your website will get promoted all over the social networks if you manage to create good content.
Since Google is already giving more importance to websites that have quality content, it becomes much easier to conduct a search engine optimization campaign on those websites.
Creating content is not a very difficult task. You can easily outsource the work for low costs. However, you should ensure that the content is a good quality. If you want any content work done be it blogs or articles we can undertake everything for you.
Content is still the king! And while the era of big data is growing on a wider scale, market executives continue to grapple with their creative teams to find new ways to target their audiences smartly and efficiently.
But while creative content marketing steps up on the ruling dais, is it time for spammy SEO techniques to take a final bow?
The answer is a big YES!

Enough of Spammy SEO Techniques! Time for SEO Content Marketing

Informative content help to generate better ROI and earn a top rank on the search engine. It is a kind of a winning solution that is both effective and efficient.

Enough reasons why it's time to bid Spammy SEOs a big good-bye and welcome the strategy of good content marketing in real sense –

Content Marketing and How Everything Started
It all started in the year 2011 when top brands like Jell-O, John Deere and Dr. Oetkar used contents to put down valuable information as a demonstration to show customers the best utilization of the products. One of the strategies was circulation of recipe books that contributed to major sales. That's how the trend of content marketing kick-started in its true sense.
In 2012, some of the major institutions and organizations realized the potential of good content marketing and started taking it quite seriously. Nearly nine out of 10 companies began using content marketing as a digital promotion medium. But, as mentioned above, the focus was on the quantity of the content. This continued until Google realized that lack the quality content could be useless for people who browse the internet for information and rolled out a new kind of algorithm – Google Panda.
Google's Panda is an algorithm that rewards sites publishing good quality content with top ranks. Marketing executives began taking their content creation more seriously and the focus gradually shifted to more quality contents. But Google Panda was no the end.
In 2013, the search engine giant introduced the knowledge graph that aimed to provide additional information based on keywords. This led organizations to change their content marketing strategy once again. Today 90 percent of the organizations use social content while 75 percent use the medium of blogs for their content marketing strategy.
By August 2013, in-depth contents became the trend and according to market studies, white paper is recognized as the medium that brings in the maximum ROI.
By 2014, Google introduces the Pigeon algorithm to offer users with relevant local search results that is believed to generate more engagement. About 63 percent of marketers start spending more on local content marketers.
2015 was the year of Mobilegeddon. According to the new algorithm roll-out, mobile friendly sites were valued more in the eyes of the search engine bots. They were also rewarded with better ranking. With more than two billion smartphone users worldwide, the objective was to make sure that users can access digital information from anywhere and on any device.

Good quality content is seen as one of the key goals of SEO ranking. Hence content is still the reigning king!