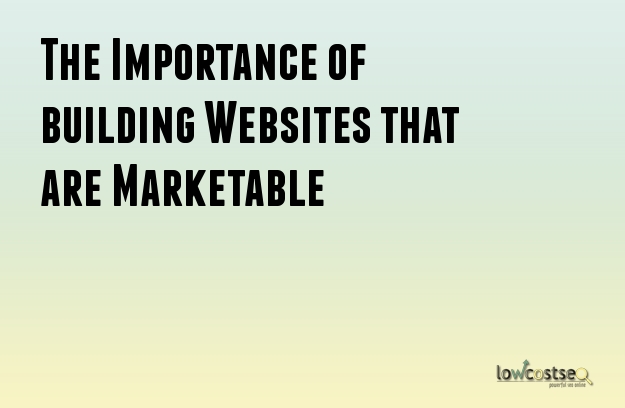 The Importance of building Websites that are Marketable
It is important to create a website that is SEO friendly and marketable on the web. We have come across hundreds of clients who come to us with their sites to market but only a few of them understood the importance of building a website that is marketable. There are many talented web designers out there who can turn any idea you have into a great looking website but what's the point of this when your website cannot be found on the search engines.
Lately we have been getting lots of inquiries about how a website should be built and if we can guide the web designer in implementing the main key elements for SEO within the site. There is generally lots of frustration from the clients who cannot understand why this is required and why they have to pay extra for it. We kindly suggest anyone who wants to venture into the online industry to fully understand how it works so that you do not end up paying thousands without ever getting any return on investment.
As a web marketer, it is my job to fully understand what my client wants to achieve from the marketing campaign. We don't just give the client a pre-written solution for their goals or objectives as each website is unique in its own way therefore it's imperative for us to understand the coding structure of the site and then take into account the client's objectives. In truth, everyone has one and only objective, that is to succeed! They want their site to bring in more business and cover their costs too. Some sites will do the job but are we just looking to "do the job" or be successful and sustainable on the long term? A site can function well but that doesn't mean it is functioning to its best potential.
In order to get your website fully marketable, the design and functionality must be perfect in sync. This is why we want all new start-ups to ensure that they do not only focus on creating pretty sites but make them functional in a way that they can enhance the marketability too. From the very start of the process, think about the keywords that you will want to market, look at the navigational architecture to make sure your customers can easily navigate from page to page effortlessly. You need to know what content will go where from the very start too and develop wire frames so that you fully understand all the elements needed in the website.
From my experience I can clearly say that most clients do not want to spend money in fixing the development issues on their site. When we tell them that, it will cost to get it changed around so that it becomes marketable, that answer is not what we want to hear! As an SEO company, there is little that we can do when the site is not designed or functioning properly. We are more than happy to guide all clients so that they can get the best out of their websites. Tips such as paying attention to the URL so that the main focus keyword for the page is embedded into the URL from the very start of the process.
When we begin an SEO campaign, we always ask for client's admin details so that we can edit and make the site more SEO friendly. Please ensure that you have these details on hand with you. At Lowcostseo, we have our in-house programmer so any SEO related changes required are done absolutely free of charge for our clients. All in all, hope you understand that building a pretty looking website will not mean you will get the traffic that you want, make it functional and adhere to the main elements of SEO from the very start and you will surely succeed. If still in doubt, get in touch with us and we'll make it happen for you!