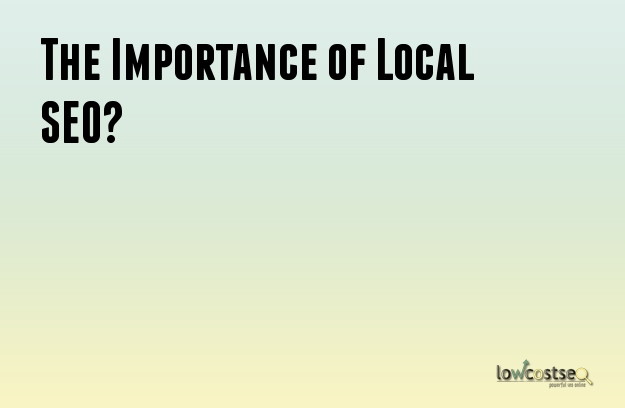 Is Local SEO important?
There has been a lot of talk of late regarding the importance of Local SEO for businesses. But do we even know what Local business means? Well, it's simple, if you search for a particular business in a specified area, you are bound to find a location close to you. A good example of localized businesses around us are the banks, fast food chains like KFC, McDonalds etc. You can easily search for their localized branch by simply entering the area next to their name in the search box, something like Barclays Bank Ealing will bring the Barclays local branch in Ealing. This is what we refer to as local search.
Local SEO is very important for those businesses that solely rely on local customers. If you are a local plumbing shop, you will want your products and services marketed across the local area. Unlike the traditional SEO, local search is not all that difficult. You have to simply optimize your website for the locality you are targeting. You can utilize the social media and also local referrals will bring great business scope for you.
We are not trying to sell you our Local SEO services but simply advising you on the importance of it. It will help you understand whether your business requires traditional SEO Services or localized SEO services. Our aim is for you to recognize your local competitors and understand if they market their sites locally or using the traditional SEO method.
Local SEO is not a new concept in the world of Search Engine Optimization. It simply incorporates the traditional on-page SEO and is more directed towards the target market. If you are looking to order Pizza where will you do so? You will not call Pizza Hut HQ would you? You will look for the most local one near your location.
How can Local SEO affect my business?
Local SEO can also be sometimes referred to as "targeted traffic" because we are specifically looking for those customers who are looking for our local services. It's pretty straightforward isn't it? Nowadays it's the smartphone generation, with more and more users searching for their local businesses via their smartphone. In this case having your website optimized for mobile local SEO is very important as the new generation is looking for what you have to offer. Now it's entirely your choice whether or not you take on this opportunity or not.

Implementation of local SEO
Now that you have decided that local SEO is for your business, you have to go ahead and determine the best search phrases/keywords for your website. Thereafter you have to ensure that those keywords or phrases are optimized on your website. When selecting these keywords put yourself into the shoes of someone who's looking for the services or products you provide. Your mind-set has to be similar to theirs in determining these keywords. As a word of caution, do not overstuff your site with a lot of keywords as that can have a negative impact on your SEO campaign.
Do all businesses require SEO?
Make sure the website is very easy to navigate and the micro data has been properly embedded. If you are not sure about anything please do consult a reputable SEO consultant. Always check your Webmasters tools for any errors that could affect your rankings and make sure you submit your business to all the biggest citation sites around such as Google+ local, Bing etc. These citation sites can really help in improving the search ranking and overall exposure because they allow the visitors to review the local online businesses. A recent survey conducted showed that more than 80% of customers actually read reviews posted before purchasing any product or service.
The truth is that not every business requires SEO. Some small businesses get local business which is sufficient for them so undertaking SEO will just be an extra burden for them. Small businesses may not have the capacity to handle the calls or emails via the website as they only prefer to handle small number of customers they can. There are lots of shops you may come across that are not concerned about growing bigger or expanding. They are content with serving the regular clientele but not worried about how to increase their market range out of their area. Most of these clients think SEO is over-rated and that they do not need to expand or market their business on the web.
Some small business owners give a host of reasons for not expanding their business such as paying salaries, interviewing cost, training cost, clashing staff and so on. Now for many these could be more excuses not to grow rather than reasons. Now if we look at the reasons why one should expand their business, "Profits" generally is the most important one. We understand that expanding business means more responsibility and perhaps more stress but you also get the advantage of increasing your net worth and financial security too.
If you as a business are content with the goals and objectives that your business is achieving and not looking to grow then SEO is not for you. In fact all marketing and advertising is useless for you as it is not needed by your business. I honestly find it strange when someone is reluctant to grow their business when they are given the opportunity to do so. In the other case, if you're someone looking to get exposure of your site, increased visibility then you need SEO. If you're someone who wants to improve the performance of your site then you need SEO.
SEO is not something that happens by itself or a process that is easy to undertake, for example anyone can write content but very few can write content that actually makes sense and is perfectly optimized for the search engines too. If you have a website, the rankings will not automatically improve themselves or links will not appear out of the blue. All this is hard ethical work that goes into the process of SEO. If you ignore all these elements then your site will deteriorate.
We have had many customers asking us about how much and how long should the SEO campaign be? Our answer is, this is dependent on what your goals and objectives are as a business. If you are looking for sustained growth then you have to keep investing into SEO and if you're looking for temporary growth then you can discontinue SEO at any given time. However, please note by stopping SEO, the search rankings will drop too as other competitors of yours have an eye for being on page one too. Your loss on page one will be some other websites gain. If you are an online business and had not invested in SEO then you are neglecting your business. How will your customers find you on the web? What is the point of the website when it cannot be found on the search engines!
It takes a lot of effort to get a website on page 1 in all major search engines and it's even harder to improve the rankings when on page one. SEO is an on-going process to improve the website's exposure and visibility on the web. Without SEO, your online business is stagnant. Then again all business owners have contrasting views about their take on SEO and how it affects their business or not. All in all, we at Lowcostseo feel that SEO is the lifeline of business growth. SEO will bring the positivity needed to your website, it represents, links, social media marketing, content, directory submissions etc. Now if all this works in tandem, your site's rankings will improve and get noticed on the search engine thus leading to increased traffic and finally have a direct impact on the profits of the business.
All in all, if you are keen on Local SEO for your business and are looking for a talented SEO Company then contact us at Lowcostseo.co and allow us to boost your search engines rankings to the top.
Benefits of Localized SEO
Localised SEO is for those who run a business at a particular location in order to target a particular group of people. It is very important to determine the geographical location of your business and its target audience when it comes to country or location specific businesses. Search engines like Google will give preference to search words if the search is on a particular business and particular geographical location. For instance, if you are a plumbing shop based in London, you will market your keywords based on the location of your shop i.e. Plumbing Shop London.
What do we do at Lowcostseo?
At Lowcostseo, local business owners can find very helpful and innovative solutions to establish your localised business very effectively. In addition, we try to endeavour our SEO methodologies to meet the latest requisite of online marketing. By availing our Localised SEO service consumers can easily get in touch with their local target audience. At Lowcostseo, business people who manage local business in and around U.K can find affordable Localized SEO package. Apart from that there are certain significant merits in availing Localised SEO services through Lowcostseo they are,
1. Find out how to reach target audience with the help of local modifiers with keywords
To bring out organic results and to increase the traffic stays the prime motto of Lowcostseo. Hence, we take care over the aspect that every business website is built up and presented in a catchy way that the business owners can reach out to maximum target audience within short period of time. Moreover, SEO techniques focused on local traffic always develop the possibilities of higher conversions and purchases. Adding keywords with local modifiers is the key factor to reach location specific visitors. When comparing the traditional SEO keywords with Localised SEO, the inclusion of location information has better prospects to increase sales.
2. Focus more on Content is our motto
Once SEO services add local modifiers to your business keywords, they will start focusing on website content. With the help of local modifiers SEO professionals will make sure that the content presented in the website stays appropriate and well-suited for search engines and social media networks to display your website link in the results page of that particular location.
3. Do you know the striking difference in keyword research with Localised SEO?
Application of location based keywords will make the website more search engine friendly. For example, if you are a real estate service provider in Manchester, your business keyword has to be "Real Estate companies in Manchester" or "Real Estate Manchester" This will increase the scope of business and will help search engines to include your website in the results' page. Moreover, people who live in Manchester and neighborhoods will preferably search for real estate in Manchester and neighborhood places. This will certainly add scope to make a strategic appearance in the web world.
4. Local SEO –The Smart Way to grab excellent profit making opportunity.
Comparatively localised SEO can easily help the business people to reach their target group easily. This will consequently increase the popularity of your website and certainly fetch more customers. Many people search their needs with specific keywords in relation to the location in order to get the exact link where they can purchase or get whatever they need. Localised SEO strategies favour for high traffic, reach more target audience and make revenue.
5. Optimization of business websites for compact devices
At Lowcostseo, we offer Localised SEO packages to all businesses across UK. Due to the rapid growth of compact devices such as tablets, iPad's and smartphones, business owners have to consider these devices when undertaking an SEO campaign. They have to make sure their site is compatible with these devices and effectively optimized for them. The inception of compact browsing devices marketing, advertising and other online business strategies have found new outlook with SEO services and Localised optimization is one among them.
If you are a local business owner with a website but confused about what step to take then contact us as Lowcostseo for the most affordable and effective Localised SEO.
Consumers are more likely to search for services that are available within their immediate vicinity. If you or your company provides such services then it will be important that people can find you in their localized searches. That can only be done by implementing SEO techniques to improve your website ranking in the search results.
Why Do You Need Local SEO?
The need for local SEO has increased in recent times. This has been due to a number of different reasons mentioned below.
Google has stated that nearly 20% of their searches are localized in nature. This is major trend and it seems that the numbers are going to increase with the passage of time.
According to various statistics, the number of mobile users is on the increase and it may even surpass the PC users in search volume. Moreover, the majority of mobile users tend to perform localized searches.
The search engine optimization processes for local searches are quite complicated. It is becoming increasingly important that you change your strategies for online marketing in order to match the ongoing trends in the market.
Factors That Affect You're Ranking in Local Searches
Local searches are affected by number of factors. They are mentioned below in decreasing order of importance.
Place Pages
External Localization
On-page local optimization
Local links
Reviews by customers
Presence on social networks
Mobile searches
Personalization
Tips To Enhance Local on Page Optimization
The on page factors will have a tremendous influence on the ranks you get on search engines. That is why it is important to ensure that your website is optimized in the proper manner. It will be the key to your success.
The name of the domain should reflect the business your website is offering.
You will have to ensure that each page in your website has been given a title that accurately reflects your business as well as your services. At the same time, it should ensure that it properly represents your location as well.
The description of the webpages should also accurately convey the above pieces of information.
The same pieces of information will have to be conveyed through the header tags of each webpage.
Crosslinking can be a crucial tool. The crosslinks should exist between pages that are related and contains descriptive terms. The location will have to be added to the content but in a way that makes sense. Haphazard placement will have to be avoided.
Your website should contain information about business hours and directions. However, the most important piece of information that you can never skip out is the location or the local area.
You can include certain details in the location landing page. This will include publisher, authorship, structured data and schema.
Apart from these specialized techniques, you will have to follow the other common SEO techniques in order to get the best possible results for your website. Of course, just like other SEO processes, you will have to be patient as it will take time for the optimization process to take effect.