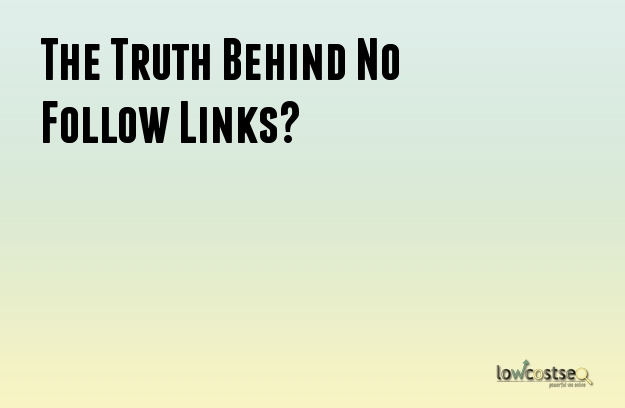 Most people working in SEO know that it is not possible for all links to be equal in quality or importance. The search algorithm employed by Google also differentiates between the links. It can consider some of those links to be more important than the other ones. These links will have a better value for your SEO.
Types of Links
The inbound links to your site can be of two types or forms. They can be do-follow links or no-follow links. While do-follow links have their own advantages, no-follow links can be pretty important as well. They have a lot of value when it comes to SEO. Additionally, they have the ability to provide a number of advantages that do-follow links cannot give.
Do-Follow Links and No-Follow Links: The Difference
Do-follow links will be able to offer true value when it comes to SEO. This is due to the fact that they act as a vote of confidence and credibility and Google recognizes them as such. These links are mostly obtained in the natural manner. No-follow links, on the other hand, are considered to be unable to offer any value for SEO. This is due to the fact that their tag specifically orders Google not to follow that particular link while the ranking algorithm is being performed.
Why Were No-Follow Links Introduced?
The tag for no-follow links was introduced in 2005 by Google. This was done in order to combat the spam comments on blogs. These spam comments were trying to mislead the ranking algorithm through the creation of links. These links were for specific links rich in keyword text. This helped the websites of those spammers reach the top of the rankings in search results pages when those keywords were used. The links they used were artificial and were in large volumes which helped them reach the top.
Do The No-Follow Links Have No Value For SEO?
At first glance it does seem that no-follow links do not really have any value whatsoever from the viewpoint of SEO. However, the fact of the matter is a bit more complicated. According to Google, no-follow links are not used when their search engine complies a search ranking. However, these links are used but in a different way. According to various experts in the field, Google certainly follows the no-follow links. However, their bots do not index the links to the page. The indexing can occur but for other reasons such as do-follow links which connect to that page.
The Benefits of No-Follow Links
After the Penguin update to the search algorithm by Google, the key to success has become diversity in links. The websites that have linked to your page should be diverse. The link text themselves should be diverse. Even the inbound links to your page should be diverse in their types. No-follow links do have benefits when used properly.
Extra web traffic to your website
Increased opportunities to convert leads
The benefits provided by no-follow links are often indirect and can have extra value for your webpage.