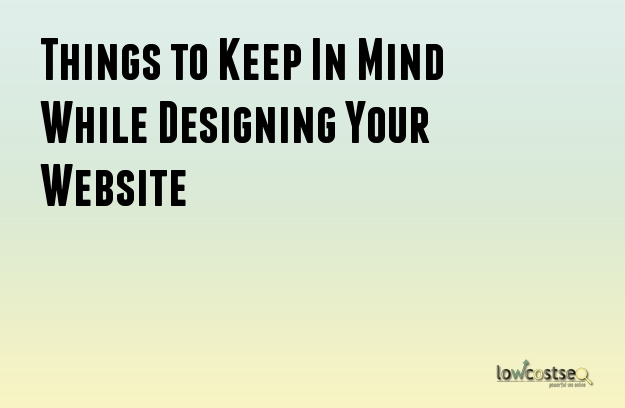 Launching a business in the market basically means that the business need to have a presence in the virtual world. However, to be present on the Internet or the virtual world it is important that your business has an official website. But, there have been instances where many business websites failed to gather enough traffic? Do you know why? Well, it is because there have been numerous mistakes that have been made while designing the website. So, what are those mistakes? And, how you can prevent your website designer to make the same mistake in your website? Well, here are certain guidelines that you can follow.
Make The Readers Understand Your Goals
The main objective of launching a business oriented website is to make your potential customers understand as to what your business is able to offer. Thus, it is important that through your website you can explain to your targeted customers as to how your products and services can transform the lives of these people. So, whatever you are looking to convey make sure it straight to the point and direct.
Do Not Beat Around The Bush
Customers basically visit your website looking for a solution. They are never in a mood to beat around the bush and not get their answers straight and simple. This is the reason why you will have to make sure that you give proper directions to the professional who is writing your content. Make sure that your message is conveyed in straight and simple words. If you fail to do so then you will surely get the reader bored and uninterested.
Avoid Giving Too Many Directions
For a website to gather a huge amount of traffic it is important that the website designing is simple and subtle. Avoid giving too many choices to a reader, as this will get them confused and irritated. This is the reason why it is important that you give fewer choices and one single direction to the reader to follow. This will keep the reader interested and engaged in reading your website.
Display Vital Information Related To Your Website
Your aim should always be that all messages, related to business should be present in your website. And, above all the most important messages should always take the front seat. This is because readers generally have the tendency to read what is in front of them and not search for information. So, make sure your readers do not have to go for a hunting spree looking for vital information on your website.
Avoid Providing Too Much Information
Many entrepreneurs make a mistake of feeding too much information in one paragraph. Well, you certainly should not do that, as that will slow down the reader and make him disinterested and bored. Always try including small paragraphs and make sure it has the necessary information that the readers are looking for.
Avoid Using Complicated Words
Many content writers prefer using complex words in trying to ornament their content. But, in the process they basically spoil the interest of the reader who is reading it. It may be so, that the reader is more comfortable reading simple terms and words, having to come across such complex words can get them disinterested and bored. Thus, stick to simple words and sentence.