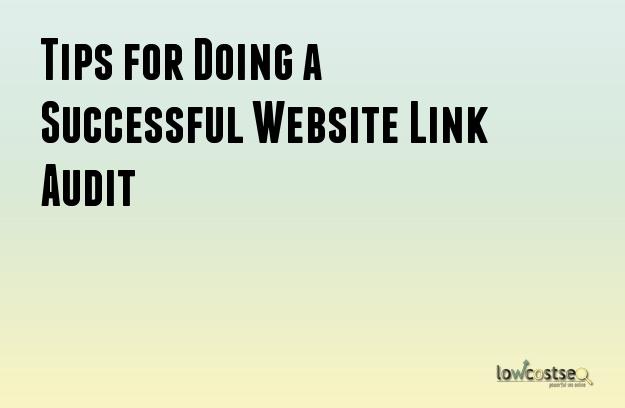 Web site link audit is very important for maintaining SEO results, but most of the time we fail to do it because of lack of time. Moreover only a few of us really know how to do a proper link audit.

It basically means checking and reviewing all the links present on your web site to make sure that they are connected to its proper location and working in the way it should. There are different kinds of web site links that have their own particular location and working technique. The most popular kinds of web site links are:

Internal Links - These are the links that you create in the web site in order to connect the content to the site. Broken links can occur at any time if you even rename or delete a common post.

Inbound Links - There are also known as the back links. They are used to connect your site to the other sites. This is little bit risky as if the site that is connected to yours is not viewed favorably by Google. Vice versa if the site has a good ranking, it will benefit your site.

Outbound Links - There are many links on the web site that may go for third party content. If the third party deletes or removes the content that your link is related to, your link may become a bad link. You need to audit the links regularly to make sure that this does not happen.

If you want to do a correct web site link audit you can follow these tips:
·Using the Right Tools: This is very important if you want to get the best results. There are many tools available on Google. Some of them need to be downloaded and installed whereas you can use the others by visiting the site. You can just enter your web site's address and it will start working. You will get the statistics pertaining to the functional and the nonfunctional links on your web site. Some of the popular tools are Open site explorer, Majestic, Ahrefs and Screaming Frog.

·Follow the Google Alerts: Google and the other major search engines are instrumental in deciding the visibility of the web site. It is obviously not possible to have a web site free from errors. There will be some links that will not work in the way you want it to. Set up the Google Tools master and monitor your account on a regular basis. You will get alert from Google regarding any errors that may happen. If you get a warning from Google, you need to heed it and work on it immediately.

Don't Take Impulse Decisions: During the auditing process you will come across warning against many links. It is important to pay heed to them, but at the same time make sure that you do not jump the gun. You must do some research of you own before you start deleting the links. You should not depend entirely on the tools for the action.
Image Courtesy:
www.fiverr.com