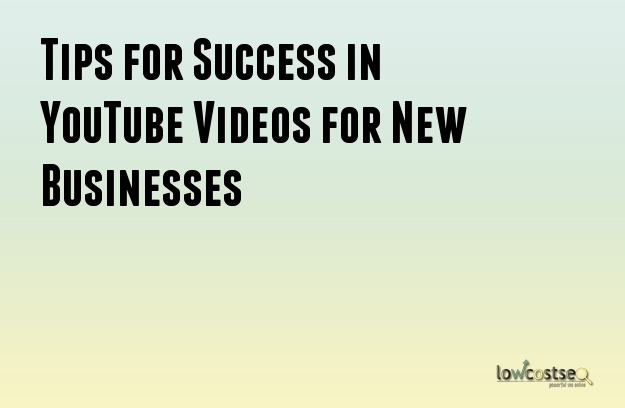 Social media is a very good way to reach your customers and inform them about your product. But, social media is not just about Facebook and Twitter or Google Plus, there is also another highly popular and effective medium called You Tube. This is basically a platform for sharing videos.

Video marketing is very effective in helping your product reach far and wide. Video has the capability of making more connection with the customers and they can understand the uses of the product much better. It opens up a new potential of marketing altogether. If you are able to create the stories properly, you will be able to ensure much deeper audience engagement.

If you are planning on using You Tube for your video marketing, there are certain tips and tricks that you must keep handy for better results.

·Keep the Videos short and to the Point: Research shows that shorter videos have more impact on the audience. It is better if you keep the video less than two minute. The attention span of the viewers is very small and they will not have the patience to go through a long video. But, make sure you do not rush through the video. Edit it carefully and ensure that it has all the points that want the viewers to see. Goof editing is the trick to success here.

If you want, you can create more than one video and if the viewers do subscribe to your channel, they will automatically get the notification when you add a new one.

·Create your Own Channel: You should create a channel if you want to use professionally. The channel should be in the name of your company, so that the viewers can get the feel of a brand from it. Moreover it will also make it easier for the potential customers and viewers to find all your videos in one place. Use the proper tags and titles to make sure that it is presented properly. You can also embed the links of the videos on your other social media pages like Facebook, LinkedIn, Google Plus, etc.

·Create a Long Term Marketing Plan: Just creating a channel is not enough; you need to have the proper content ready. It is matter of commitment and dedication. Research and plan what you want to put in your site and create the content according to it. You need to upload videos on a regular basis to keep your audience interested and increase your credibility.

·Understanding YouTube Analytics: Analytics are a kind of forecast that will show you how your videos are expected to perform in the market. Read and assess all the information carefully and find out the details about your viewers like how much time they spend on the site, what kind of videos they like to watch. If you are aware of the data and understand its significance, only them you can design a flawless marketing plan that will not only be feasible, but effective.

These steps will help you get the results that you want with YouTube.
Image Courtesy:
www.techcrunch.com