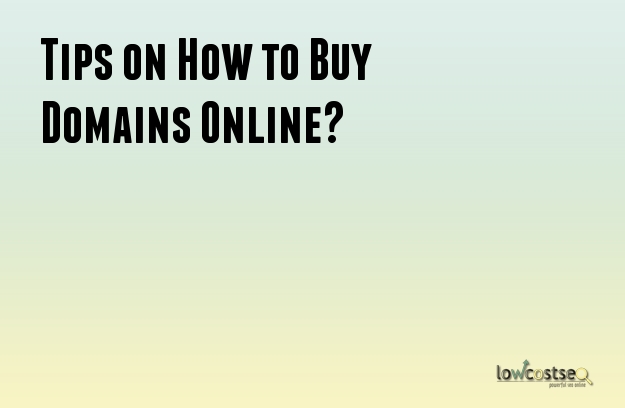 Essential online domain buying tips
Domain name sales every year, generates huge revenue in the online business industry. Buying domains is undeniably a lucrative business when done smartly- buy from reputed and trusted domain sellers and more. Even though many of the domain sellers are safe, getting ripped on internet is very easy. So below are the best safety tips to buy domains online
Check and verify if the email address is legitimate
Domain sellers mainly contact their potential customers by sending emails. But today, spam and fraudulent emails are sent in bulk to internet users. It becomes hard to determine if any promotional email received to be trustworthy or not. When you are too much involved in buying domains, any incorrect decision can cost you a lot of money. After all, some domains could be false advertised and sold for millions. Before you proceed with the deal, check if the seller's email address is legitimate. How to do this? See if it is a business, personal or random email address. Most of the trusted sellers will have their email address linked to their official website. If you can't find anything relevant to the email address, ask the seller to mail the details through their business email account. You can also do a simple background check by searching the email address on Google. Any complaints about the email will let you know that buying domains from the seller is risky.
Research well
Like any other product you buy, do your research before buying domains. It is worth spending some time reading the testimonials, and online reviews. A reputed will be happy to share testimonials of their customers, both bad and good ones. Again thorough research is essential to make a decision about buying domains from a seller.
Terms and conditions
Read the terms and conditions at a glance, and make sure you completely oblige with all the norms. Also see if domain seller is offering full transparency in the conditions. Before you buy a domain or series of them, understand the terms and conditions.
Negotiate to buy at the best price
Do not readily accept to pay the quoted price. Negotiate before finalizing the deal. All the agreements, negotiations, and terms of payments should be taken in writing. This forms a legal contract between you and the buyer. This contract will act as a token of evidence in case of any disputes.
Transfer money by Escrow payment methods
Escrow payment methods are third party companies that receive, hold, and release the funds based on the conditions agreed by the buyer and seller. The escrow companies are government licensed and regulated and comply to the internet escrow law. If you are using an escrow service, your money is protected from any kinds of online frauds. In case of domain name sales, buyer first sends payment to the Escrow account. Next, the seller transfers the domain name. Buyer after accepting it releases the money.
Only pay when you are satisfied with the purchase
Once the domain is transferred, you have control over it for at least 3 days which is review period. The actual time of review period can be more depending on the seller. During this time you have can completely check the new domains. If a domain fails to the norms of the agreement, then you can file a dispute and suspend the payment. Once the dispute is resolved, you can send the money.
Hope these tips gave you a quick insight on how to buy domains safety on the internet. In addition, see this great infographic of choosing a domain name courtest of bestwebhostinggeek.