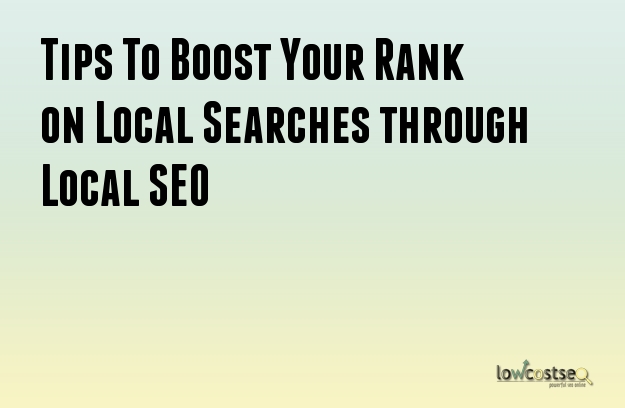 According to statistics, the majority of consumers will conduct online researches before purchasing something within their vicinity. If your website does not pop up in these localized searches you may be losing out on a lot of potential sales. You can certainly make use of the tips provided below to ensure that such a thing does not happen.
Google Places
Google Places is the most important factor for a localized search. The fact that it is completely free is an added bonus. Google is giving a lot of importance to their proprietary Google Places. Google Places allows you to add information about your business including contact details and websites. People can also leave reviews about your business.
YouTube
YouTube being another product from Google can help you get a good rank. All you need to do is to create a useful video on a topic related to your business. This video can then be uploaded to YouTube along with information about your business. It is quite effective. The video should have a geo-tag. Provide a link to your website in the description. The video must be linked to your Google Places and Google Plus pages. You can even embed it in your website. Promote the video on the social media channels as well.
Consistency of NAP
Name, address and phone or NAP is now an important element to consider. As a part of the recent changes, it is has become crucial that your business information remains consistent. The correctness of this dataset provides the search engines with validation which in turn improves the local search rankings.
Building Links
Links are one of the most important aspects of SEO. Back-links should be created with the help of authority websites. Domain authority is still a crucial factor in searches. Utilizing links from these domain authority websites can improve the authority of your own website. It is equally important that your website contains links from websites that are locally relevant. As long as the websites are influential in the area you operate, you can use their links.
Blogs
Blogs have become important in SEO. You can create original content that deals with your business and the local area. Images can be applied to these blogs as well. Interesting blogs are bound to be shared by other websites or your users. This will in turn create more links.
Social Networks
Google takes the social networks into consideration while ranking websites. If you have a strong presence on these sites, your website can get a good ranking. Create a profile on all the important social networks and keep posting information on a regular basis. Social profiles do crop up in the local search results which can bring in business from impressed customers.
Online Communities
There may be online forums and websites that serve your local area. Your business should be visible in these groups. Websites of local newspapers can provide a forum for your business to be active in.
Local searches constitute a sizeable portion of a website's leads. Bringing in more of these targeted consumers is bound to affect your revenue positively.
Imagine your customers searching for a service in Google and it automatically displays your business. It is not a dream anymore. By dominating local search results, people will be shown your business whenever they search for a service that you provide.
Just like other spheres of life, you should be the first to get your business listed on local searches if you wish to beat the competition. There are certain benefits of doing so.
Advantages of Getting Listed Locally
You will get your own pin on the Google maps to help your customers locate your store.
Google displays an information panel in their local searches for businesses. You will get your very own panel.
If course, you will rank higher in the local business results in Google.
There are other similar benefits that will be displayed on the search pages. They will boost the exposure of your business making it easier to get more customers. However, you should know how to get all these benefits.
Getting Listed Higher In Local Search Results
There are various SEO tactics you can use to get a higher ranking in the results locally.
Google Plus optimization
By concentrating on the Google Plus page for your business, you will be able to enjoy certain benefits that you cannot get otherwise.
Higher ranks in the local pack results.
Your very own pin in the local maps.
A unique knowledge panel for your business.
The local carousel will show your business.
Citations
Citations can be useful in improving the reputation of your business. It will be reflected in your online SEO efforts and among your customers as well. You can increase your citations by creating profiles in the various business directories and review forums such as Yelp. It is better to opt for complete citations that include your business NAPs than partial ones. It is not necessary to include your website links but it can do you no harm. The benefits of citations are mentioned below.
Your business gets a higher rank in the pack results.
Even the local organic search results will give a higher rank to your business.
On-site Search Engine Optimization
You can choose to direct all your efforts into on-site optimization. That will give you the following benefits.
Local organic search results will rank your business higher.
Local pack results will similarly give your business a higher rank.
The information panel for your business will have more details.
Inbound Link Profile
It is, of course, important that your website has good quality inbound links. Without them, it is going to be an uphill struggle when you are trying to improve your online reputation. High quality inbound links can have other advantages. They can increase the traffic from referrals. Moreover, your conversion rates improve significantly.
The localized pack results will display your business in a higher rank.
A similarly high rank will be given to the local organic search results.
If you wish to be successful with your business, you will have to be popular in your locality first. Local SEO can be very helpful in achieving that level of popularity.