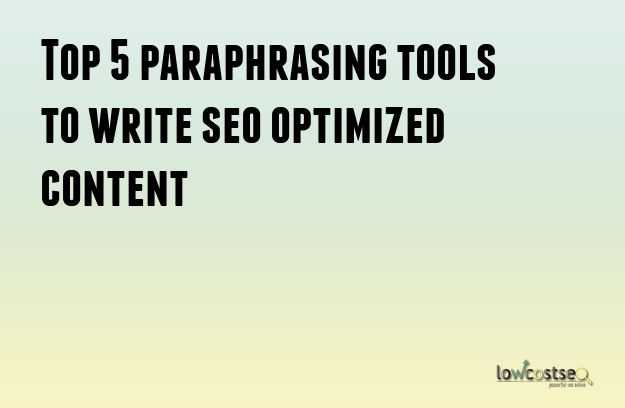 SEO experts and digital marketers have always been skeptical about the use of paraphrasing tools.
This is because online paraphrasing tools have cultivated a bad reputation as they create content that feels unnatural and robotic.
But in the past few years, online paraphrasing technologies have improved a lot.
The latest paraphrasing tools are AI-based, and they create content with a natural tone, without affecting its meaning and central idea.
So, using the latest paraphrasing tools can be incredibly valuable for SEO experts when implementing their content marketing strategy.
In this article, we are going to share with you some of the best online paraphrasing tools that SEO experts can use to enhance the impact of their SEO strategies.
What are Paraphrasing Tools? Why Are They Important for SEO?
Paraphrasing tools are online software that helps a user create unique and original content, based on an already existing piece of content.
These tools take the content as input, analyze it, and reword it to make it unique and 100% plagiarism-free.
Paraphrasing tools become essential for SEO when you have to come up with a lot of unique content on daily basis.
It is quite hard to generate new content ideas, every day. Sometimes, your only option is to use an existing idea and write around that.
This is where paraphrasing tools come in.
When you are creating SEO content on an existing idea, you can use the online paraphrasing tools to speed up and automate the content creation process.
In the rest of this article, we are going to share with you our recommended options for the best online paraphrasing tools that you can find out there.
Helpful Paraphrasing Tools for SEO Experts and Webmasters
·Prepostseo.com
https://www.prepostseo.com/paraphrasing-tool
Prepostseo Paraphrasing tool is the best paraphrasing tool in our opinion.
We have tried a lot of paraphrasing tools before, but the performance of this tool stands out in every way.
If you want to use a paraphrasing tool free, then you won't find a better option than the Prepostseo Paraphrasing tool.
The user interface as well as the user experience of this paraphrasing tool are great. You can use the paraphrasing tool 24/7, to generate unique content in a short amount of time.
This paraphrasing tool works on AI and NLP to generate quality content, based on the content that you add to it as input.
Being one of the top-rated online paraphrasing tools out there, we recommend that you check out the Prepostseo Paraphrasing tool for creating SEO content.
·GoParaphrase.com
GoParaphrase.com is a reliable online paraphrasing tool that delivers excellent rewriting performance.
Whether you want to rewrite articles or essays, you can use this tool to generate rewritten content for free.
One downside of this tool is it doesn't have an interactive user interface. The UI feels a bit messy. But since it gets the job done, it doesn't make sense to complain about the UI design.
Also, there are a lot of ads on this website so you might want to be aware of that as well.
·Smart Paraphrasing Tool
Smart Paraphrasing Tool is a recommended solution for people who want a simple to use an online paraphrasing tool.
This tool has a basic interface that looks quite dull. Although the UI of this tool needs a lot of work, it still is one of the best options in terms of the rephrasing performance that it has to offer.
The content that you generate with this paraphrasing tool will be 100% unique and plagiarism-free. Also, the paraphrasing process for the Smart Paraphrasing tool is quite simple as well.
·Paraphraze.it
Paraphraze.it is a powerful rewriting tool that you can use to reword all sorts of content. The best part is this tool has a modern UI.
You won't find a lot of ads on the website and the tool is quite fast when it comes to generating unique content from the existing one.
There are no limits to the use of this online paraphrasing tool. You can use it on your PC, laptop, and smartphone as well.
Paraphraze.it is a great choice for people who are looking for a great user experience in a paraphrasing tool. In fact, this is the primary reason why we have added it to our list.
·GreatSEOTools.net – Paraphrasing Tool
This paraphrasing tool is quite good when it comes to paraphrasing content. We have tried rephrasing long paragraphs and essays with this tool, and it has delivered exceptional performance, every time.
With this paraphrasing tool, you won't have to worry about your safety and privacy because this tool is completely safe, just like the rest of the options that we have mentioned in this article.
We highly recommend this paraphrasing tool for SEO Experts, Content Marketers, and bloggers who have to create a lot of content on a daily basis.
This tool is the perfect choice for you if you want to automate your unique content generation process.
Wrapping Up
This is it! These are some of the best options for online paraphrasing tools that you can find out there.
From the myriad of options for paraphrasing tools out there, it can get quite hard to choose that one that you can trust.
The tools that we have talked about here are all great at paraphrasing all sorts of content.
Make sure to check out the paraphrasing tools that we have talked about here to enhance the impact of your SEO campaign.