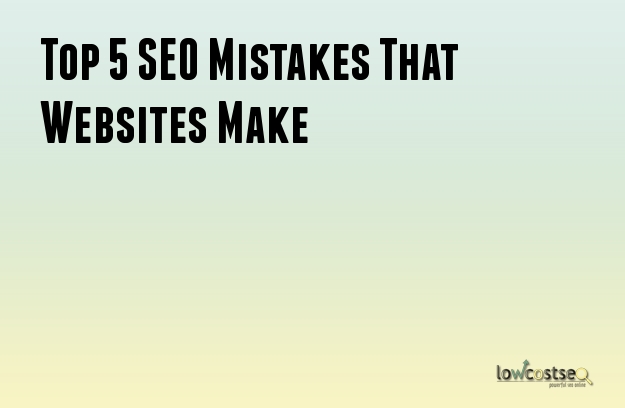 In the 21st century if you are a businessman you will have to make sure that your business has its presence in the virtual world. Well, by virtual world it basically means on the Internet. Yes, with a rapid advancement of science and technology today's generation is very much dependent on the Internet. Through the Internet, one can simply find a solution to their problem, an answer to their question and also by and sell products. Gone are those days when business was limited to sell its product in the market. Well, today the Internet has become a major market to not only sell products but also to advertise one's business to their potential customers.
So, in order to make your presence felt on an online platform or the Internet it is important that companies build their official websites. Well, have you already launched your website? But your website is not found on Google? Well, then there must be a problem with your SEO strategy. Here, are the common SEO mistakes that are often made.
Make Sure You Have Quality Content
Well, if you want your website to be present in the first page of the search engine it is important that you write quality content. Well, these days search engine optimization is less about placing the keyword in the right order and more about writing quality content. Thus, always focus on the quality of content writing.
Well, it has been a common notion that by search engine optimization it basically means to place as many keywords as possible and in the right order. Well, these days it is different. Now, it is important that every website has the right amount of keyword and impressive quality content. It is these two factors together will help you place your website in the first page of the search engine.
Need To Keep The Reader In Focus
When you are looking for successful search engine optimization it is important that your prime focus should be the type of audience you are targeting. If your website can gather maximum traffic then you can be certain that your website will definitely be ranked above your rival's. So, make sure that you always have your targeted audience in mind while preparing your website.
Do Not Copy Content From Other Websites
Many websites go down the ranking because they tend to copy the same content from other websites. However, copying from others is illegal and can get your website de-indexed. Apart from that, if viewers find the same information on two websites and the other website is above you in rank then you can forget about your website being viewed.
All search engines and your readers track your website with the title. Basically the title tries to tell the viewers and the search engine exactly what your content is all about. So, make sure that you always add a title to your content. Many websites fail in search engine optimization because they do not add a title to their content.