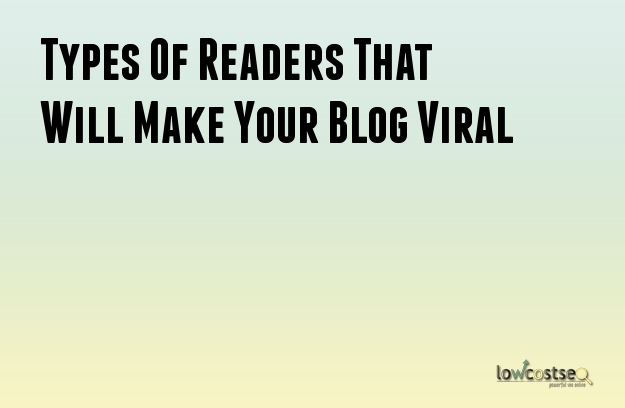 Have you launched your website on the Internet? Are looking for a way to make your presence felt on the Internet? Well, then writing blogs related to your website is the best possible solution that you can take up. However, writing a blog is not enough! There are a number of things that are needed to be kept in mind and also need to apply the proper strategy in order to do successful blogging.
Well, when you are preparing your blog you should always keep in mind about the types of readers you are targeting. This will add more followers to your blog and make your blogging successful. So, what are the strategies that are needed to be followed? Here, is a list of them.
These types of readers basically take a glance of the title of your blog and derive an assumption about your blog content. However, if he or she likes the title of your blog then he or she will certainly pass on your blog to his or her followers. These types of readers can be very fruitful and to attract them you need to write attractive snappier and compact yet impactful headlines.
Skimmers are those types of readers who mainly look at pictures in a blog. They also read the headlines and very occasionally the first line of every paragraph. However, they are more intense readers than the blind sharers as they even read the bullet points mentioned in your blog. Thus, for skimmers you will have to structure your blog very skillfully. Always make sure that the gist of your content can be easily understood by a glance.
Well, these are new types of readers who basically read a blog when they get bored with their work. But, if you want them to follow and pass on your blog it is important that you make your blog very attractive, memorable and flashy, else he or she will switch to another blog. Thus, strategize your blog for the sake of bored workers.
Researchers Are Keen Readers
The researchers constantly read blogs for a mission. Their basic aim is to gather raw and valuable information. For them it really does not matter from where the information is coming all they prefer is that the information is prompt and accurate. For gathering the attention of researchers, it is important that you feed in enough information and details. Always keep your blog précised. Make sure your have facts, as they prefer reading them.
Snobs Are Valuable Readers
Snobs are types of readers who like reading blogs that are long or lengthy. They mainly prefer reading blogs that have quality writing, original, unique, and of course lengthy. However, many bloggers find it difficult to prepare a blog like this so, it is best that you hire a professional and experienced writer for preparing your blog.
Finally it is the loyalist. They do not look for individual subjects instead they prefer organizations that write interesting and regular content. Once they find these attributes in your blog they will certainly follow your blog on a regular basis.