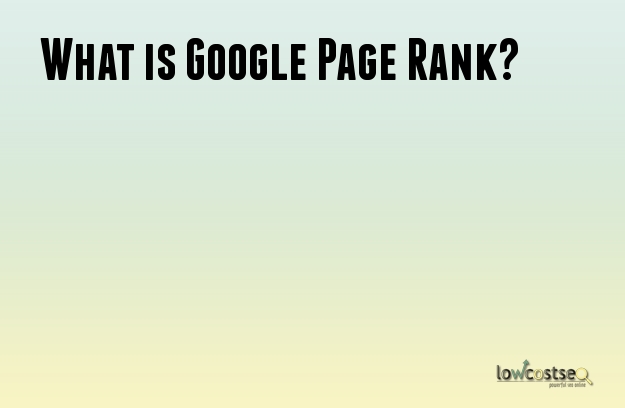 We as webmasters comprehend the importance of having a higher page rank. However we have also noted that many people in bid to bolster their page ranks buy links or get their sites attached to link farms. One has to first understand what and how pagerank is given by Google. There are lots of factors such as the quality of the backlinks a webpage has and also how the webpage ranks within the search engine results. Lots of people and companies worry about improving their pagerank that they neglect the most basic factor in SEO, that is building quality content for their sites. So today we'll talk about the importance of Page rank and should it really be a cause of concern to you?
Well, keyword density and placement have a bigger role in website ranking then the pagerank. We are not saying that Pagerank is irrelevant or something but there is proof that it is not quite important as it was once regarded as. Want to you check up on your Google pagerank? There is one tool we recommend using, that is prchecker.info. The tool will also give the pagerank for every webpage of the website. In this case you can type in any keyword or phrase and see the pagerank of those webpages that are ranking well. I mean one proof that Pageranks don't matter is when you see that some sites ranking well in search results despite having low PR's, while some higher pagerank sites do quite poorly. This again has lots of various factors such as content or quality of the links too. Its all about playing it safe and keeping it simple with Google, just avoid trying to cheat your way to the top - IT JUST DOES NOT WORK!!!
PAGE RANK IS NOT THE MAIN FACTOR IN RANKING AT THE TOP
Once again the Pagerank is not a critical factor in determining the rankings on Google. If this was the case then people would simply buy higher pagerank sites and prosper to the top of Google with little effort. That would be totally out of order as a site with little or no relevance would be at the top. There are many factors such as keyword density in the webpage content, title, url, all play a significant role in a webpage ranking. Now as a test, just try searching for a keyword and try looking at their page rank, you will notice that many top results do not have a high PR at all and yet hold good ranking on the search results, this will probably answer your questions on whether you should solely focus on Pagerank or not?
SEO AND PAGERANK LINK
So what does Pagerank mean to the standard webmasters going about with their SEO work? Firstly, keywords and non-pagerank factors (mentioned earlier) are quite important as they can put lower Pagerank site above a higher pagerank site. If you do not believe us, then just attempt searching on Google and you'll get your answer. We are not saying that you should therefore stop building Links in a bid to increase your pagerank. You can still continue in acquiring links but we suggest to spend more time in the creation of content and other keyword strategies then just focus on one.
Now when we take Keywords as a factor, we have seen that by having keywords in the URL and website title, it can have a positive effect on the ranking of the site. But the main thing is having good content that will ultimately have a positive effect on the site in the long run. Make sure you write for the target market and not just for the search engines. We are more concerned about the quality of the content then duplicated work been produced on your site.
FINISHING LINE
The bottom line is that Pagerank is important but not to the extent that you neglect other factors in the marketing process. All factors should be given equal importance as that is what will make your site a success on the search engines.All in all, build a nice website, add quality content and work honestly on your site and the results will surely come.
Above is a great infographic from Fireflydigital outlining what page rank is and how it determines ranking.
If you have any questions or need more information about SEO please feel free to contact us and we'll be happy to help.