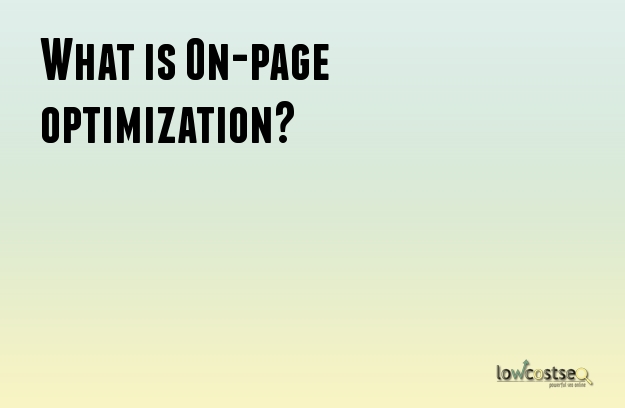 On Page Optimization - The Complete Guide
We at Lowcostseo know that getting a ranking in search engines is not an easy task at all. The Search engines are getting more smarter and with regular updates (Google Panda, Penguin), one has to keep on learning so as we can provide the very best SEO service to our clients. At Lowcostseo, the On page optimization is the first step that we look into and implement a strategy on. Now as a newbie, you might be thinking, why is it so important? - Well if you have an effective on-page optimization for your website you can not only rank well on search engines but also increase the overall visibility and readability of your website for your potential clients. The following are the most important On-page optimization techniques for you:
1) Title Optimization
The title tag is one of the most crucial website optimization element. The title tag should be descriptive for your visitors to help identify your website and business. The first thing we see on the search engines is the title tag so naturally, we have to give high importance to it. It has to be appealing for it to be seen on the search engine and rank better than thousands of similar sites like yours.
2) Meta Tags Optimization
Meta tags may not be regarded as important as they used to be, however, Meta Description is something that cannot be ignored at all cost. The Meta description should have a brief description of your website while focusing on the services that you provide. It acts as a selling snipper, whereby when a user finds it appealing he is more likely to click and go to your page to read or find out more information. One issue is if your Meta Description is too generic and not much thought process has gone into writing it then there is a good chance that your site will be ignored completely.
3) Important HTML Tags
It is very important to highlight particular parts or areas of your website that you want the audience to look at. There is a provision in that there are many tags in HTML which allows you to do so. For example - the header tags [h1][h2][h3], Bold [strong], Italic [em] etc. The text inside your header tags is given very high importance by the search engine. In most cases, they are used to define the page/post titles or the important sections of your site.
4) Keyword Optimization
The content of one's site has to be optimized in such a way that it is readable to both your audience and the search engines. We believe filling your site with too many keywords will or can make the site unreadable from the search engine perspective so it is imperative to maintain a sort of balance between the keywords you wish to optimize and the overall content of the site.
5) Link Optimization
We feel it is important to optimize your internal and external outbound links for search engines and at the same time give your customers a better navigation too. Some important elements of Link Optimization are :
The usage of Anchor Text when you are linking to other people. Try to include the keyword that is appropriate in the anchor text which gives the outbound link a "proper meaning and value.
Try using permalinks in the case whereby one has a CMS. By doing this your keywords will be on the link itself and will be seen more and valued better by the search engines.
Implementation of a good and clean internal link structure which has a proper use of anchor text.
6) Image Optimization
Some websites have lots of images and if your site is one of them then you need to optimize them too as they cannot be read by search engines. Humans can easily see and interpret the meaning but the search engines simply cannot do this. The Search engines spiders can only read the text but not images hence you require to use special tags for your images in order to give them meaning.
There are many methods to optimize your website to get the best rank in the search engines. One of the more important ones is a suitably optimized webpage. Of course, webpage optimization is only a part of SEO. It is, nonetheless an important one.
Facets of Webpage Optimization
There are a few elements that need consideration while optimizing your webpage.
Value of the Page
The webpage should provide some value to the visitor.
The content of the web page should be original and valuable apart from its promotional aspect.
Try to ensure that your webpage content is better than that of your competitors.
Suitable additions to increase the value would be multimedia components such as images.
Visitors are unlikely to leave if the webpage offers them good value.
The User Experience
User experience has become more important than ever when it comes to attracting new and old visitors.
The elements of navigation and content should be easily understandable.
The design needs to be aesthetic and of a high quality. It should be suitable for the image of your company as well.
The layout of the page should be such that it is easy to scan through them for information. The important parts of the content should be highlighted to make the process easier.
There should be the very little delay when it comes to loading and rendering the page.
It should be responsive as well.
Sharing Through Social Networks
Social networks have become quite important in recent days in SEO.
The URL should be descriptive enough to make the topic of the webpage obvious to the reader.
Attach options and buttons to make it easier for the visitor to share the webpage.
The webpage should have content that is worth sharing.
Portability of Webpage
People no longer use computers only to visit websites and web pages. They are not limited to a single browser either.
Ensure that your webpage can be rendered in the correct fashion in all the popular browsers at least.
It should also be thoroughly optimized so that it fits in various screen sizes.
There should not be any difference in the URL of the webpage when it is accessed through different devices.
Implementation of Keywords
Keywords are an irreplaceable part of SEO.
A single webpage should be meant for single search intent and the related keywords and variations.
The primary keyword or phrase should appear among the first few words of the title.
It is possible to implement the most important keyword or key phrase in the URL of the page.
The content should be logical and easily understood. Related keywords should be used if the exact one cannot be implemented.
Highlighting measures are required for the keywords.
The images in the web pages should have the appropriate keywords in their alt tags.
The anchor text used should be descriptive in nature.
Secondary keywords need to be used logically and appropriately.
There are many such tips which can be used for getting the optimization process perfect for your webpage. A suitably optimized webpage can boost the conversion rates quite significantly.