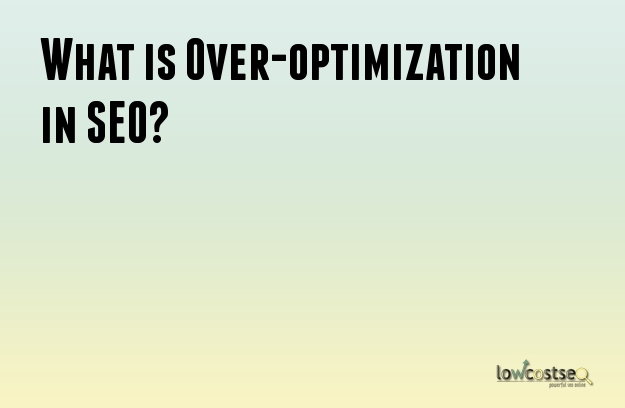 What is Over-Optimization in SEO?
The Fact behind Over-Optimization in SEO
Optimization of a website is one of the key processes in an SEO campaign. A website is optimized through several methods like keyword optimization, content and blog optimization, optimizing though back links, etc. However, there are limitations imposed on SEO techniques while applying them. Search Engines like Google, Bing, Yahoo and others accept those websites that strictly appear with regulated SEO implementation. Exaggeration or over usage of optimization methods is considered as over-optimization in SEO. They don't like sites that keyword stuff as that is bad SEO practice.
Why Search Engines strictly object Over –Optimization as Smart SEO Game?
Top Search Engines like Google considers over-optimization in SEO as a wrong SEO method as Google observes this technique as a smart game played by SEO professionals whose intention is to add more traffic instead of making the website reliable. Websites that are optimized to more than what is required will have to pay penalty, says Google. Below are some of the important features that come under SEO over-optimization concept.
Important Over-Optimization Features that are not authorised by Search Engines
Keyword Optimization Regulations
Basically, SEO performed with keywords is considered the primary technique in Optimization. For every website, the first page plays the main role in giving a complete layout of what the website is about. The inclusion of target keywords will be done in the first page of the website; however, some SEO companies also try to include the main keywords in other pages of the same website. By doing so, will take away the real SEO look and leave the web pages as simply filled with keyword stuffing. This will also increase the percentage of keyword usage and Search engines will not accept this kind of stuffing and those websites will have to either pay penalty or reduce the keyword and tag structure percentage.
Exaggeration in Content
Some SEO companies focus on writing content in a way so that it matches the keyword phrase irrespective of the logic present in combining the word structure. For example, adding a keyword phrase "Universities in Europe", some SEOs will intentionally include keywords either "Europe Universities" or "University Europe", etc without article usage. This will naturally appear as commercial point of view and over optimization again. As a rule of the thumb, never go above 2-3% Keyword density in your content and make sure you get someone to proof-read your work so that it makes sense to everyone and not just the for the search engines.
Adding Many Back links is also treated as Over-Optimization
Back links are one of the marketing techniques which SEO professionals prefer to implement to highlight the purpose of website. A good SEO Company will always try to include healthy and trusted links but some SEOs include as many links as possible to enhance the web traffic; hence, this kind of procedure comes under over-optimization. Do not engage in automated link building work as that is bad SEO practice, always focus on manual natural link building procedures. Many clients come to us after they have ruined their sites with thousands of automated links.
Title Tags and Headings
This is in connection with formatting the primary page of a website. Title tags and headings are found to be relevant for people to search the main point of a particular website. Title tags reflected in several web pages that gradually takes the visitors to the same web page is found to be a kind of over optimization. Since, some SEOs feel that adding identical title tags and headings will help the website to appear in top ranking list, they make it frequently appear with the same identity and Search Engines never permit this.
All in all, try to play fair with the search engines and avoid over-optimization as it can lead your site in getting a penalty. If you are looking for high quality manual link building then contact us at Lowcostseo today.