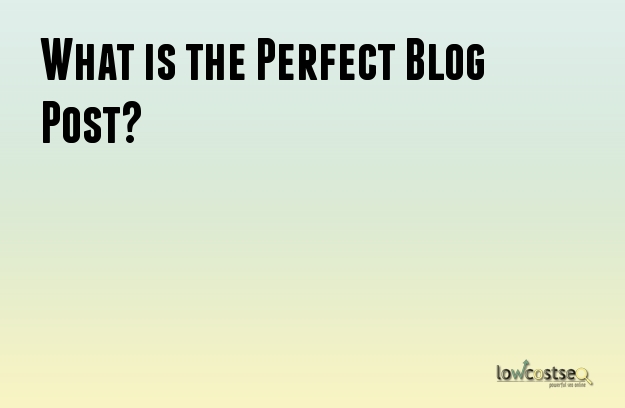 Blogs can be posted to improve the ranking of your website on search results pages through SEO. However, you can make the SEO much easier by ensuring that your blogs have been crafted to be friendly to the Google search algorithms.
The Headline
If you want to create blog post optimized for Google then you will have to start with the headline. You need headlines that address the needs of the users. They are searching for information and if your headline tells them that the information can be found in your blog, your link will be clicked. You will get a higher ranking instantly and of course a better click rate. Don't be in a hurry to create your title and avoid using jokes or clever headlines. Users will understand the headlines but not Google algorithms.
The Main Idea
Your blog will deal with one particular idea. This idea should be easily identifiable through the headline. You entire blog should be dedicated to that idea. More importantly, ensure that you outline this main idea within the first paragraph itself. Avoid implementing too many ideas in a single blog post. The Hummingbird algorithm update from Google places more importance on blogs that asks a question and provides the answer within the same blog.
The Opening Sentences
The opening sentences of the blog will determine whether your reader is hooked or not. If they are interesting, you can be sure that they will be reading the post further. You should make the best use of the opening sentences. Some blogs have the 'read more' attribute. In that case, it should be placed just after a very interesting sentence. It will act like a cliffhanger and make the user look forward to reading more.
Bold Text
Highlight some sentences or phrases in your blog. Italics also work nicely. The key is to make those phrases stand out from the rest of the text. These sentences should of course be about the core idea of the blog. Additionally, it will be better if the highlighted phrases or sentences contain your keywords.
Images
Adding an image to your blogs is an excellent idea. An overwhelming majority of users tend to browse blogs that have images on them than blogs without them. Of course, the image should be related to the main idea of your blogs. You can get images that are royalty free from various sources. Provide credits wherever possible. Moreover, ask the permission of the photographer or artist if you are going to use a copyrighted image. A better solution would be to use images that you have taken or created yourself. When you are embedding the image on to your website, you should take carte to fill out the ALT tags of the image correctly to help SEO procedures easy.
Subheads and Paragraphs
Not all readers will have the time to browse through the entire blog so you should create subheads wherever possible. Keep the paragraphs short as well. It makes reading easier.
There are many other tips that you can use to improve your blogs. You should always remember that a good set of blogs can be useful for your SEO.
According to the recent statistical results, it has been noticed that websites can benefit form including a section on blogs. Blogs can help the websites attract a higher traffic flow. Blogs can be entertaining or informative. You just need to ensure that the content is related to the business you are dealing in.
Blogs are extremely beneficial for SEO campaigns. Optimizing your website with keywords and backlinks becomes a much easier and smoother process when you have a blog. People can share your blogs on social networks which is an effortless method to garner links. Additionally, you can place the necessary keywords within the content of the blogs.
Be that as it may, you will need to keep your blog fresh so that your readers keep returning for new information. You have to constantly come up with new ideas to use for your blogs or you risk derailing your SEO campaign. In case you run out of ideas, here is a list of possible ideas that you can use for your blog posts.
Ideas for Useful Blogs
List blogs: These blogs simply provide a list on items related to a particular activity such as fishing.
How-to blogs: It is a basic blog post which helps your readers to perform a certain action.
Case studies: You can discuss case studies related to your line of business with these posts.
Problems and solutions blogs: These blogs outline a particular problem and then provide a solution for it.
FAQ blogs: As the name suggests, you simply provide a collection of frequently asked questions about a certain aspect of your business.
Research blogs: This can be a detailed blog which shows the research that you conducted on your own on a particular topic related to your business.
Checklist blogs: These types of blogs are similar to list blogs but tend to be more easy to understand
Guide blogs: These are highly detailed blogs which give a complete guide to the reader on a certain topic associated with your business niche.
Definition blogs: In your business, your readers may come across topics that are difficult to understand. These blogs can provide the necessary education.
Blog Series: There can be topics which are perfect for creating a series of blogs rather than a single one. You can post each part of the series on a regular basis to make your customers keep coming back.
Contest Blogs: You can host contests from time to time to increase the engagement levels of your readers.
Comparison Blogs: You may be offering similar products or services. Comparison blogs can help the readers understand the difference between them. These blogs can also be used for other topics related to your business.
Personal blogs: These blogs can cover a range of diverse topics. You can wish your readers on holidays or give them a glimpse behind the methods you use for your work. If your blogs is going to serve your business website, then you can avoid intimate topics.
Writer's block can occur even to the best writer and blogger. Keep a lookout for inspiration and ideas for your blogs as there are many to use.