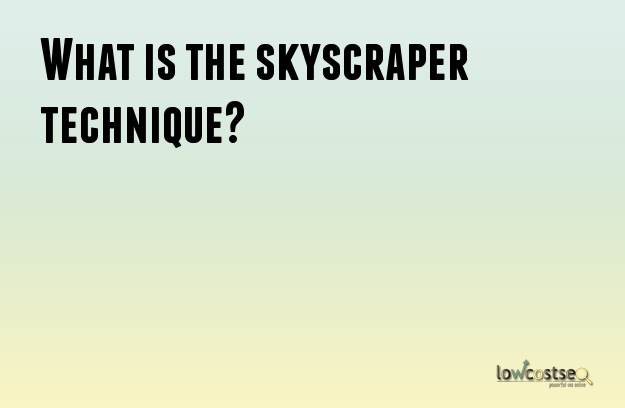 When you want content that stands out, the skyscraper technique is something that stands out a lot. Every SEO agency has heard of and many have, at some point tried it. Done right, it works.
However, a good SEO specialist knows that there is a time and place for every strategy. There is no one universal answer. So, when should you use the skyscraper technique and, likewise, when shouldn't you?
A Worthwhile Update
You can't just add a minor update to someone else's list and call it relevant content. For example, the difference between 100 and 101 one is minute. If you're looking to stand out and get links, it needs to be something that's worth noticing.
Similarly, depending on your field, you can update this with the current year. If you're trying to compete with "50 fashion tips for the modern kitchen", why not try "60 fashion tips for 2017's kitchen" or something to that effect. The Skyscraper technique is still content: it only works if readers are looking for it and bloggers want to share it.
Don't Skimp On The Actual Content
The skyscraper technique can work very well if the content itself is still effective. If you're mentioning 100 products, methods or tips, there needs to be more than a handful of words on each. You don't need lengthy paragraphs, but there needs to be enough takeaways at each point for the user to remain satisfied.
This is something that the best infographics (especially those that earn you backlinks) understand. They offer a question or sense of intrigue, then go on to clearly answer and inform about this subject.
The Link Database
Part of the core concept of this technique is that the better content will get linked to more often. However, part of this philosophy involves targeting rival content that is already well established.
Building new links can be useful, but you have to ask a few important questions, such as:
If similar content already exists, why aren't these platforms already linking to it? Are they not aware of it, or is it something that simply doesn't interest them. If so, you need to ensure your content does.
Is the content too old? Few webmasters are going to fix, change or update links from a few years ago, and not many will go back a couple of months. If this is the case, make content that is strongly updated to reflect modern values and you can still earn yourself a new link.
In other words, when analysing the link profile of existing content you're looking to tower over, it's worth taking a minute to consider the motivation of these platforms. Why was this content linked? More importantly, what needs to be done to make them link again?
Sometimes The Numbers Are Just Too Big
On the other hand, numbers aren't everything. Eventually, too many tips can become too much. In fact, in many cases, large numbers can negatively impact the skyscraper technique.
Why? Because people often want quick answers. If someone offers them the "30 best keyword analysers" or the "100 best keyword analysers"… what does the difference matter? A user arguably only needs one keyword analyser. If your content is oriented like this, a wider number doesn't actively benefit the reader. It sounds like value on the surface but, ultimately it is not.