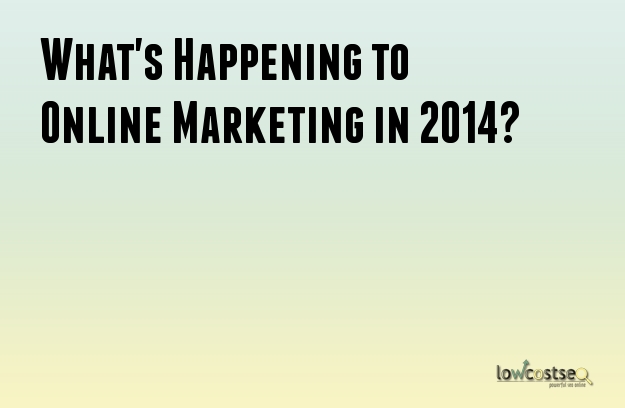 Online marketing changed in 2014. Buttons and graphics became flat, images more retro in their look, and subtlety started becoming a welcome relief from the garish attempts to grab our attention that previous years had been responsible for. Even fans of '80s music have breathed a sigh of relief at the change.
But what else has moved marketing forward in 2014?
"Inbound" became an often quoted phrase. Basically, marketers began to make the connection with good content and internet users' curiosity. Provide them good content, and users will return to the originating site for more - hence exposing themselves to the site's advertising and business offer. Content creation for inbound marketing rocketed with every blog and site owner screaming out for new infographics to show their statistics in an engaging manner. Social media marketers churned out memes at a massive rate in an attempt to go "viral." Content writers began creating productivity guides and time management methods to deal with the workload.
SEO hasn't changed, but its acceptance in a more widespread business model has. Business owners now recognize how important search engine optimization is to their online marketing. Conversely, email marketing has become just as important for much the same reason. While some marketers can easily grab SEO and run with it, others are left in their wake. Perhaps this is why they have come to understand that building a strong relationship with their list is one of the best ways of marketing to them and keeping them as customers.
Social media caused big waves last year, and it continued into this year with many marketers making use of Facebook's cheap advertising. An initial downturn in Facebook's IPO may have brought the Zuckerberg crew to an early realization that they needed to be competitive to stay afloat. Behind the scenes, there are many who are making money with affiliate marketing through Teespring sales and promotional posts in many of the thousands of fan pages and groups.
Mobile continues its meteoric rise in the marketing arena, with more local services being sought through smart phones and tablets. Location based services such as Google's are helping the consumer find the service or product provider - and that's also good news for Google and the Google local business marketers.
The key to making online marketing work for you in 2014 is to narrow your focus. Understand that marketing is just that - marketing. You must have a product or service that people actually want before you can do any kind of marketing at all. Then, when you are sure of what the product is and why people would want it, you need to decide what kind of places online your prospective customers are likely to be found. There's little point in marketing a flower shop on Twitter instead of Pinterest, just because you have heard Twitter is big this year.
There's little doubt that a clear project management strategy needs to be created before your marketing takes place. When it does, it should focus on an array of marketing principles that don't depend on Google's favor, and it should involve mobile if your business is locality-based. However, one size does not fit all. Networking has always worked in offline business and there is no difference online - concentrate on the virtual water coolers where you find your prospects taking a break and you will connect with potential buyers. Then wow them with your con