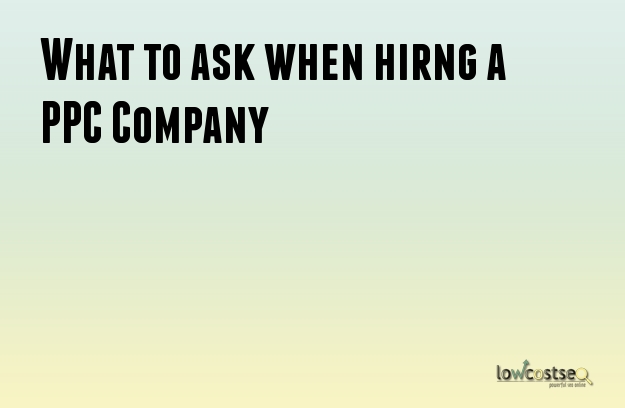 What You Need To Know When Hiring The Best PPC Marketing Company.
Popular Questions to Ask
If you are asking yourself whether PPC (Pay Per Click) is the best way to achieve your company goals in terms of generating more leads and attracting more customers into your niche/site. You need to hire a professional company to help you meet your target and boost your business to a new level. The mistake here would be to hire an AdWords marketing company which is not going to fit to your companies profile and will jeopardize your efforts of moving forward. This is what makes you at a position to only pick a professional PPC company to deal with your online marketing strategy and ads expenditure. However, there are things that you need to consider before you land yourself one of the best PPC marketing companies to choose from.
Who will own my PPC account?
First, before picking a PPC management service, you need to be conversant with the person who will own your account. In most cases it could be that you are working with a more specialized and acquainted PPC planner who works for the agency, contrary to this the account could be managed or handled by a team member who isn't experienced to properly run all your ads marketing campaign. It is very crucial to know the person you are dealing with and you have to ensure that they are very knowledgeable to properly analyze your specific niche.
Are you a certified partner of Google AdWords?
It is of great importance to hire a Google AdWords affiliated company if you want to start your online marketing advertising strategy. There are many companies currently in the market that ignore the importance of acquiring a certification from the biggest search engine (Google), it is not because they can't but it is because of their failure to achieve success in generating outstanding AdWords traffic. To gain a competitive advantage, you need to hire a PPC marketing company that is certified by Google through the AdWords certification program.
How on earth will I analyze the growth of AdWords campaign?
Good PPC management service companies' usually ensure that they give you with a detailed report of the progress of your AdWords campaign regularly. This will give you a clear picture of how your money is being spent and whether for the value you are attaining your required results. Don't be shy, ask the company to give you a weekly or monthly report so that you can get a more detailed analysis of the campaigns.
Can I refer back to my previous work?
Before hiring any PPC company no matter how good they are, make sure you ask for their track record before hiring them. By revisiting their previous work you will be at a position to make a firm decision since you will be aware of the credibility of the company. Many companies boast of quantity but its quality that sets the best PPC Company aside.
Don't forget that your money is at stake here and you want it used in the right way. This is why you should not hesitate in asking the questions stated above when hiring the best PPC marketing company to give you that competitive advantage online. We at lowcostseo.co can help boost your AdWords marketing campaigns to the next level.
Effective PPC Management Services
Currently, an effective PPC Management program is one that must be ranked high when measured through a veracious evaluation process, which involves inspection and bench-marking to determine whether it's producing overall great services to visitors. Advertising on the major pay per click networks is very expensive and competitive. Every day, it becomes very difficult to make your online business to bring a steady stream of sales and leads. Pay per click is more complicated than it appears because this style of marketing continues to increase and competitors keep growing savvier. Success in a PPC campaign is a process that involves creating a concrete foundation based on sound and fundamental principles. You'll further need to continually test and refine the key variables often to improve and expand your campaign. As a leading SEO company, LowcostSEO understand these aspects, and know how to deal with them. These are only some of the examples of effective PPC management services that they are experts of:
Establish your business on the principle of on-demand reporting. It's possible to increase profit and transparency through flexible reporting. This involves a detailed reporting on any individual campaign. Sign up with companies that are specific on how keywords and an ad copy is performing in the market in relation to capacity to generate leads of high quality and in great numbers. Every PPC campaign relies heavily on the landing pages. Tailor made landing pages contain specific content that arouses visitors to act and urging them to become buyers. A well-crafted landing page should be well designed to be able to turn your visitors into buyers.
It's also important to have a lead tracking program. This will help you identify the best leads that are likely to buy. The program will also help you to know which keywords, ads, or campaign techniques are responsible for attracting quality leads. You need to know which specific elements of your campaign draw in a lot of quality leads. This will help you to know which area to direct your efforts and budget. There should be a team of researchers to try test thousands of components and find out how effective they are in attracting relevant visitors.
Never sacrifice content quality. Using SEO is still important, and it will probably always be. However, search engines are getting more clever, and one should never underestimate their upgraded power to detect which websites use questionable tactics to raise their rankings. Stick with content with great quality, and everything else follows.
Take care of social presence. Search rankings are still as relevant, but it will be a great advantage to utilize social media. Put up contents that people will be happy to share since by creating a platform where people can express their thoughts, you will be creating a community that attracts traffic and creates awareness of your brand.
To manage your PPC campaigns effectively, ensure the company responsible has done a thorough analysis of your business taking into consideration both current and past search market initiatives. It should have a modern PPC account assessment and restructuring system. A good company will have a call schedule where you get to discuss results and for new strategic initiatives. While a PPC Management program is a very important component of your digital marketing campaign, it should be integrated with other online marketing strategies to develop your business. All these services, and more, are done by LowcostSEO with great efficiency, leaving your business in good hands